The Gaslamp Quarter has been, for a while now, a hub bub of activity, entertaining the world's visitors and San Diegan's with fine dining, great nightlife, culture and retail.  There is always something new popping up, or coming soon and we're dedicating this story to what's new and exciting in our vibrant district!
Salt & Whiskey–  311 Island Ave- The freshly opened Salt & Whiskey brings a welcome food and beverage reboot to the Gaslamp's historic Horton Grand Hotel.  Its Victorian inspired whiskey temple (the beautiful mahogany Palace Bar, has a new menu that features whiskey forward drings and holds more than 500 varieties in its whiskey cabinets. Make sure to order their "Dusty Rabbit" cocktail!   The old "Ida Baileys" is now a new and inspired restaurant  with welsh born executive chef Aaron Thomas at the helm  whose upscale but straightforward menu, aims to be a dynamic and seasonal spot designed to attract neighborhood residents and create a new downtown dining destination.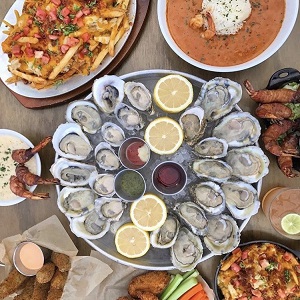 The Oyster Bar–  551 J Street   – The Oyster Bar, is located where the old Meze location used to be on J street.  The friendly staff and fabulous fare brings you back to the sumptuous yet unpretentious, with personal-sized kettles steaming with Creole-inspired concoctions. The kettle tips down and oozes out a wonder sauce cooked to perfection and served with warm rice and fresh garnish. It's an instant comfort in a bowl. Great beers on tap, a casual setting and deliciousness!
Spill the Beans– 555 Market Street – Where do you want to get a great cup of coffee and a homemade bagel?  Spill the beans of course!!  local coffee roaster Dark Horse fuels the patrons of this new "hip" establishment.  The coffee house features a breakfast menu centered around housemade bagels and spreads from local celebrity Gaslamp Quarter executive chef Kevin Templeton.
Smoking Gun– 555 Market Street-  Smoking Gun, Spill the Beans' nighttime companion. The relaxed restaurant and bar has a menu of house smoked meats, including brisket and pork shoulder, alongside vegetarian-friendly sides and bagel-based creations. The funky venue also has a large selection of micro brews, an affordable boilermaker list, and specialty cocktails.
The Poke Co–  416 F St- If you're a poke lover come try out this place!!  This extremely reasonably priced poke bowl place specializes in having the freshest ingredients  (with the assistance of their friendly staff) will help you make your own delicious poke bowl.  They also have delicious slushis, like the honeydew boba slush and lovely desserts!
Queensborough–  777 Fifth Ave- This Roomy New York City-inspired cocktail lounge in the William Penn Hotel  turns out shareable plates & sophisticated sips.  The beautiful interior and great menu choices make it a perfect beginning or end to a great evening in the Gaslamp!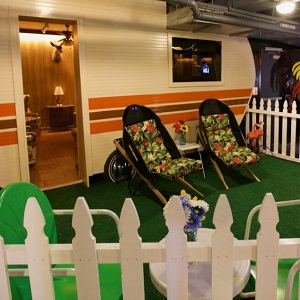 Trailer Park After Dark– 835 5th Ave.- Yes it really is decorated like a vintage, retro trailer park!  Check out this great venue for retro bites, and novel craft cocktails!  Open Tuesday- Saturday from 5pm-2am this is a place where you are sure to impress your buddies!
San Diego Trading Co-  376 Fifth Ave  – San Diego Trading Company Just expanded into the old real estate offices and now will have a boutique for women and children along with their usual souvenirs and t shirts perfect for a gift or a remembrance of America's finest city!
Overload-  525 6th Ave. (coming soon)Newly signed to share the 8,600-square-foot space with Smoking Gun and Spill The Beans is another outpost for retail Overload, which has locations in North Park and Carmel Valley. The shop offers a selection of footwear, skateboarding and streetwear plus branded apparel for Smoking Gun and Spill the Beans.  This cool area will also serve as a special event space.
Be on the look out for other great restaurants/ nightclubs coming soon!  Inkas, VYBZ, Havana 1920!!