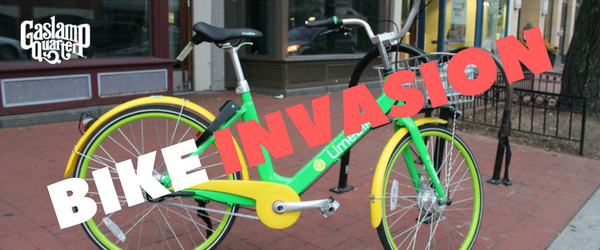 Out of nowhere, it seems, San Diego is the latest market to be invaded by dockless bike and scooter sharing companies. (Dockless meaning the bikes and scooters have self-locking mechanisms and GPS tracking and, therefore, can be picked-up and dropped-off anywhere.) These new companies include LimeBike, Bird, and Ofo each with a distinctive color and a penchant for clustering multiple units together.
Caught off guard, the Gaslamp Quarter Association and the Board of Directors have been working hard all week to communicate our neighborhood's unique challenges to each of the new operators. We have solicited feedback from merchants, residents, and others to create a formal position. With face-to-face meetings planned for next week, we hope to resolve outstanding issues as soon as we can. We will keep you posted.
That said, biking and new transportation methods can be good for business:
"How Businesses Are Cashing In on Bicycles" – A local San Diego Success Story
Jeff Motch wasn't trying to cater to fellow bike riders when he put a bike in the logo of his business, the Blind Lady Ale House. But as soon as he opened his restaurant in San Diego, CA, his clientele started asking: So what's the connection to biking?

"Bicycle people were attracted to our place, even though it wasn't intentional," Motch said of the logo. "And when you tap into a small, core group like that, word spreads very quickly."

Motch started offering a 10 percent discount for anyone who arrived by bike and built a large and loyal fan base faster than you can brew a batch of pale ale. On Sunday mornings, Blind Lady is the meeting spot for social rides, like the annual Growler Run, which takes participants to a local brewery. Now, on any given weekend, Motch's place is packed – and a sizable percentage of patrons are cyclists. "I have 20 or 30 bikes outside my place on a Friday night," he said.

Increasingly, businesses across the country are trying to tap into the spending power of cyclists. In 2008, the League of American Bicyclists launched its Bicycle Friendly Business (BFB) program, setting clear criteria for how employers can encourage cycling among their staff and customers and recognizing companies at the Bronze, Silver, Gold or Platinum level for their achievements. From small coffee shops to major corporations, a staggering 480 businesses in the US have earned a BFB designation. Hundreds more have applied.
Get to Know the Operators