San Diego Restaurant Week is back January 19 – 26
By Annie Abrahamson
From steak and seafood to fondue and dessert, San Diego Restaurant Week (Jan 19 – 26) is a food lover's dream. With so many noteworthy restaurants to choose from in the Gaslamp, SDRW gives guests the opportunity to try a new spot (or return to a favorite) by offering a special menu at a reduced price. Check out this mouth-watering line-up and start making your reservations now!
Butcher's Cut
Price: $40 per person
Menu Highlights: Hipsters, Yoga Teachers, and guac lovers will be thrilled with the delicious Avocado Toast option. And if you're looking for a good seafood dish, the Salmon with spinach risotto, sauteed carrots, dill cream and lemon bordelaise emulsion looks delish!
De'Medici Cucina Italiana
Price: $40 per person
Menu Highlights: This menu is an Italian paradise featuring choices like Calamari Fritti, their signature Sole Fortofino, and of course, Cannolis!
Fogo de Chao
Menu Highlights: Fogo de Chao knows the key to winning people over…is BRUNCH! Not only do they have a special San Diego Restaurant Week menu for lunch, dinner, happy hour, drinks, and dessert, but they are also including brunch featuring selections like Braised Beef Hash and Bolo de Fuba (sweet cornmeal cake with whipped caramelized banana creme).
Greystone Steakhouse
Price: $50 per person
Menu Highlights: Veggie-lovers will swoon over the Portobello with artichoke, aged gorgonzola, spinach, bell pepper, roasted tomatoes, and bechamel sauce, while meat eaters can indulge in the Bourbon Braised Pork Chop. 
The Melting Pot
Price: $30 per person
Menu Highlights: Dipping yummy things in yummy things. And also cheese. Need we say more?
Nobu
Price: $60 per person
Menu Highlights: Nobu is offering special and an indulgent 5-course meal complete with Assorted Sushi, Snow Crab Tiradito, and more! Guests have the option to up their cuisine game for an extra $15 and upgrade the fourth course with items like Lobster with Wasabi Pepper Sauce and 28 day Dry-Aged New York Strip with Anticucho.
Oceanaire Seafood
Price: $40 per person
Menu Highlights: A classic and delicious 3-course meal featuring favorites like oysters on the half shell, filet mignon, and key lime pie! 
Osetra Seafood and Steak
Price: $50 per person
Menu Highlights: This menu has something for everyone! From yellowtail carpaccio to Italian sausage rigatoni, every guest is sure to find something to get their taste buds dancing!
Provisional Kitchen Cafe & Mercantile
Price: $20 per person | add $12 for Wine Pairing
Menu Highlights: This two course menu is like a "choose-your-own-adventure" book. Choose a starter and entrée, or entrée and dessert!
Rei do Gado
Price: $30 per person
Menu Highlights: Rei do Gado's rodizio-style all-you-can-eat parade of mesquite, charcoal grilled meats served at your table side is reason enough to hit up this spot during SDRW.
Rockin' Baja Lobster
Price: Lunch – $15/$20 | Dinner – $30
Menu Highlights: During lunch, upgrade your second course for just $5 and get yummy options like Seafood Enchiladas or a Warm Lobster Roll. Both lunch and dinner menus include their specialty, Fried Ice Cream (YUM!).
Searsucker
Price: $25 per person (lunch)
Menu Highlights: Guests can munch on a classic fave (among other delicious choices): Grilled Cheese & Tomato with gruyère, provolone, parmesan, basil oil. Follow it up with something sweet like a Warm Chocolate Chip Cookie or Berry Panna Cotta!
STK
Menu Highlights: Come for brunch, stay for dinner, and sip on some cocktails in between! STK has a big menu perfect for a big appetite!
The Field Irish Pub
Price: $15 per person
Menu Highlights: Want a great meal that doesn't break the bank? The Field is offering two course with delicious items like the Corned Beef Sandwich and Shepherd's Pie.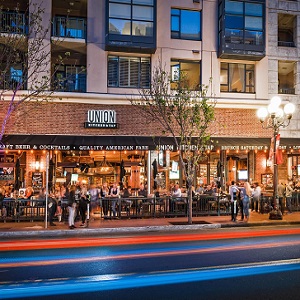 Union Kitchen & Tap
Menu Highlights: Union's entire menu is up for grabs….brunch, lunch, social hour, kids, you name it, they have it for SDRW! Try their Gumbo Poutine or Alehouse Beer Cheeseburger (drool!).