Dine: Parq
Progressive American Cuisine, made using flawless techniques and perfect execution.
Parq Restaurant gives guests the experience of dining in Central Park. The open-aired restaurant and lighted trees create a romantic and hip ambiance. Parq will tantalize your taste buds and make a lasting impression. Dine with us for an unforgettable experience today.
The Gaslamp Quarter in San Diego is a delectable foodie's paradise. Dining choices are plenty with options for al fresco on the sidewalks, sky high at a rooftop lounge, or in an intimate and ornately designed restaurant. Make a reservation at any of the high-profile restaurants featuring celebrity chefs, who create eclectic menus that will please any palate. Not only is dining in the Gaslamp a culinary journey of dishes from all over the world, but Gaslamp Quarter's restaurants range from casual to upscale. It allows baseball fans as well as romantic dates to find the perfect place to savor the day or night!
There's always lots of new and upcoming things in the Gaslamp Quarter! Check out below for new Places to Dine, Shop, Stay or Play  in the Gaslamp! Lunisol Great Shopping, niche shoes from Brazil, and Italian boutique wear for women. Location: 234 Fifth Avenue,... read more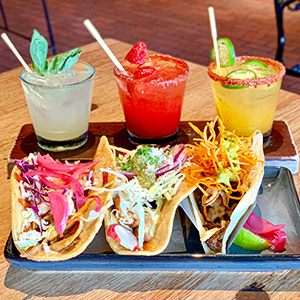 The Gaslamp Quarter has been the host to many top end dining experiences. Volcano Rabbit, located at 527 Fifth Avenue, has the look of a dazzling and rustic taqueria with downtown's largest tequila selection and a menu with creative salads, tacos and appetizers. The... read more
The building that houses the GARAGE Kitchen + Bar/The Shout! House on Fourth Avenue, was once a Garage, called Carriage Works, built in 1890. This building was constructed to house the wholesale business of Todd and Hawley, and operated there until 1902. Their stock... read more