The San Diego Union-Tribune 25th Anniversary Gaslamp Gala presented by Hilton San Diego Gaslamp Quarter
November 7, 2019 | 401 K Street, San Diego, CA 92101
The Gaslamp Quarter Association is pulling out all the stops to celebrate the Historic Heart of San Diego this November 7th at the 25th Anniversary Gaslamp Gala. 
The Gaslamp Gala begins at 5:00pm with a hosted reception on the terrace of the Gaslamp Quarter Hilton Hotel, with a silent auction  along with cocktails and appetizer selections from 10 Gaslamp Quarter eateries.
Once the silent auction wraps up, guests will descend to Fifth Avenue for an evening to remember. This elegant culinary affair, held beneath the iconic Gaslamp Quarter sign, has been hailed as one of the city's most remarkable and distinctive hospitality experiences.
The proceeds from the Gaslamp Gala will benefit the Gaslamp Quarter Association, the official non-profit 501(c)6 trade organization of the Gaslamp Quarter, that uses advocacy, community relations and promotional programs to promote and protect the business district for the prosperity of the associations members.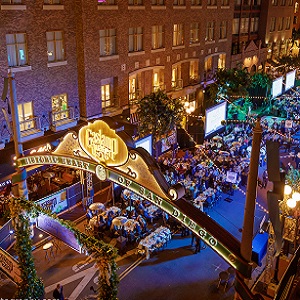 THE 2019 GASLAMP GALA AWARD WINNERS
Best Boutique: Bubbles Boutique
Best Hotel: Pendry San Diego
Best New Business: Ike's Place
Best Art Gallery: Sparks Gallery
Best Fast Casual Restaurant: Ciro's Pizzeria & Beerhouse
Best Venue for Live Music: The Shout! House
Best Casual Dining: Meze Greek Fusion
Best Specialty Retail: Downtown Ace Hardware
Best Personal/ Professional Service: RMD Group Consulting
Best Fine Dining: Greystone Steakhouse
Best Bar: El Chingon
Best Nightclub: OMNIA
Be a part of what makes not just this event – but also our Gaslamp Quarter community – extraordinary! Sign up today to support the 25th anniversary Gaslamp Gala  – contact Taylor from McFarlane Promotions at (619) 233-5008.
THANK YOU TO OUR CURRENT 2019 SPONSORS