Gaslamp Flicks: Spooky Movie Edition
Friday October 29 | 6:00pm – 11:30pm
Presenting 𝐆𝐚𝐬𝐥𝐚𝐦𝐩 𝐅𝐥𝐢𝐜𝐤𝐬: Spooky Movie Edition with a TRIPLE Scary Movie Feature & 𝐅𝐑𝐄𝐄 𝐀𝐝𝐦𝐢𝐬𝐬𝐢𝐨𝐧! Yes, 𝐅𝐑𝐄𝐄 𝐀𝐝𝐦𝐢𝐬𝐬𝐢𝐨𝐧! Head to Gaslamp Quarter for dinner and stay for a 𝐅𝐑𝐄𝐄 movie night! We highly recommend that you bring your own blankets and chairs!
Here is the movie lineup:
6:00 p.m. – Hocus Pocus
7:35 p.m. – The Exorcist
9:45 p.m. – The Conjuring: The Devil Made Me Do It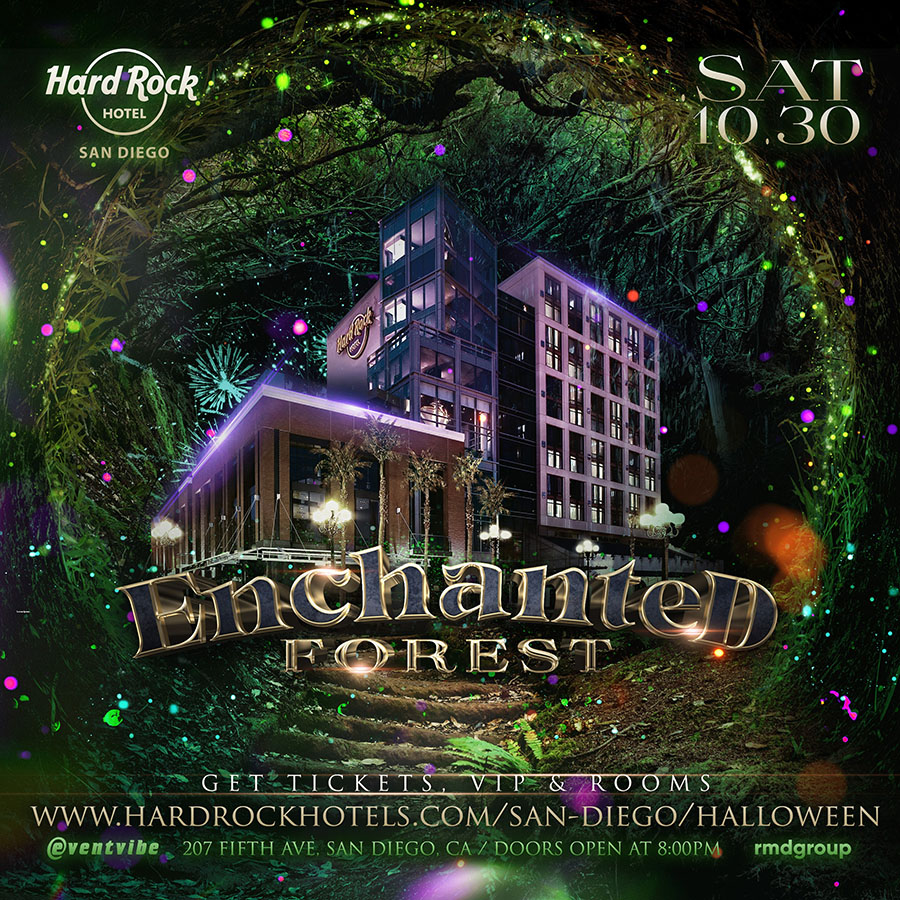 Hard Rock Halloween "Enchanted Forest"
SOLD OUT
October 30
According to folklore, a forest is a place of magical refuge. Housing a hint of danger, strange surprises, unusual characters, and always a promise of the unknown, it's a place where the lines between fantasy and reality blur. In celebration of Halloween 2021, we invite you to lose yourself in a rooftop Enchanted Forest bash taking place outdoors on our Woodstock Terrace on Saturday, October 30. Experience a night of drinking, dancing, and musical revelry featuring a lineup of your favorite San Diego DJs. Room packages include two tickets to the event. Book yours now before they sell out!
Great Pumpkin Beer Festival "Tappin' Gourd Times"
October 30 | 3:25pm – 10:25pm
The legendary Seattle Great Pumpkin Beer Festival hits San Diego for a mischievous day of pumpkin-themed brews, live entertainment, twisted experientials, squash-based foodie creations, hidden surprises and so much more!  For one day only, the streets of Downtown San Diego will be transformed into a gourd-geous mecca of all things nonsensical as misfits unite to celebrate brews, boos, and beats.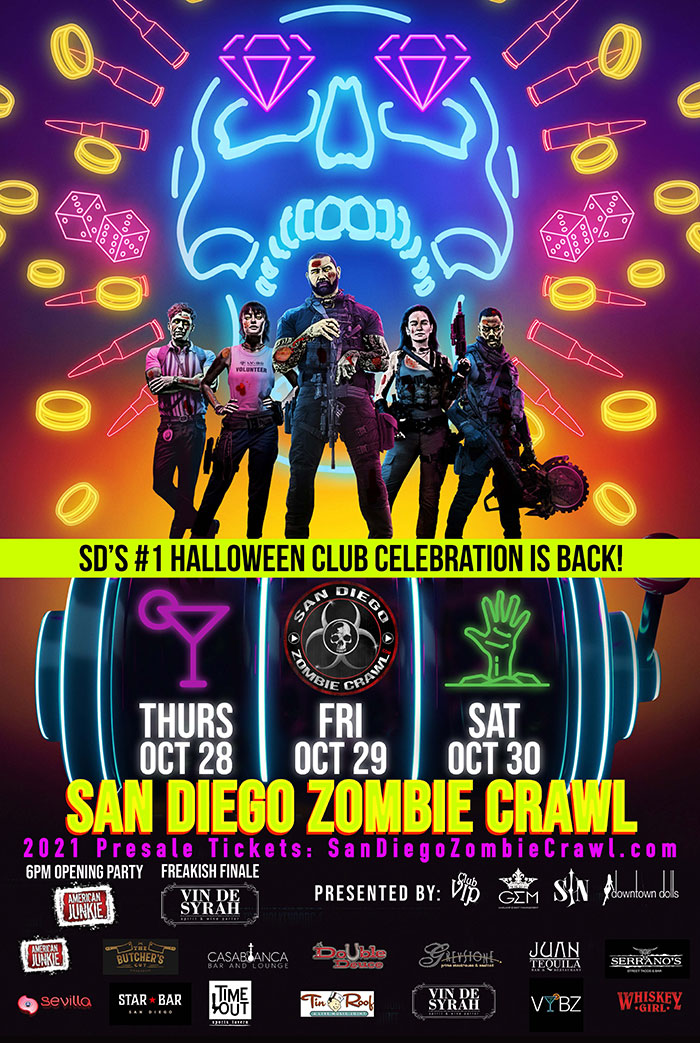 2021 Annual Halloween San Diego Zombie Crawl
October 28 – 30
This year's SDZC will be a 3-day event, kicking off on Blood Thirsty Thursday, Oct 28, and shifting graveyards all the way till Scary Saturday, Oct 30! We're DYING to welcome you back to the ghoulish Gaslamp Quarter where your favorite HAUNTS await you with adult TREATS, including FREE ENTRY, WELCOME SHOTS, DJ, DANCING & MORE! Get your tickets NOW, before you miss out on one HELL of a weekend
Nightmare Before Vin Xmas
Saturday October 30 | 8:00pm – 2:00am
Twas the night before Halloween, but there's no sign of Klaus. Wander on down the rabbit hole, to where they play house.⁠ This Halloween weekend, join the Pumpkin King for a night of wonderful scares and plenty of boos. RSVP now through the link in bio and enjoy complimentary Tito's Vodka for the first hour.
Provisional Kitchen, Cafe & Mercantile hosts Dia de Los Muertos
October 27 | 6:30pm
Celebrate the beauty of a life well-lived this Dia de Los Muertos with a special dinner, where the flavors of Mexico are brought to a beautiful life with live music, face painting, a cocktail reception with our friends at 818 Tequila, and 3-course menu. $120 per person, all-inclusive of service charge and tax.
Victorian Paranormal Tour of the Davis-Horton House
SOLD OUT
October 19 | 6pm
Add a bit of haunted history and paranormal intrigue to your Tuesday evening! It is the spooky season after all and the "Spirit"-or spirits- of Halloween are beckoning you *virtually* to enjoy a demonstration of the various worldly tools used to communicate with the otherworld beyond the veil. Join us as our Historian shows and discusses popular tools used during the Victorian era such as divining rods, tarot cards, and pendulums, Modern tools such as K2 meters and an Ovilus will be used as well. It's the perfect way to add some All Hallows' Eve fun to your Tuesday night at home! Tour will be streamed via zoom live from the Davis-Horton House and will last approximately 45 mins. $15 per device.
Ghosts of the Gaslamp Tour
Every Friday of October
Take a stroll through the Gaslamp's haunted history with Davis-Horton House historian, Sandee Wilhoit, who will recount ghostly happenings of the past…and of the present. Visit hotels, saloons, brothels, and a long-ago funeral parlor, and end your tour INSIDE the Gaslamp's most haunted edifice – the Davis-Horton House.
Cafe Sevilla San Diego: Halloween Party
Sunday, October 31st | ALL DAY
Café Sevilla Nightclub San Diego is celebrating Halloween 10/31 all day with spooky sips, and a scary good tap: brunch (11 a.m.- 3 p.m.), Live Music (3 p.m. – Midnight), and happy hour (4:30 p.m. – 6:30 p.m.)
Here is the schedule:
11 a.m.- 3 p.m. – Brunch
3 p.m. – Midnight – Live Music
4:30 p.m. – 6:30 p.m. – Happy Hour
Barleymash: A Haunted Circus Halloween
Sunday, October 31st | ALL DAY
A twisted and and frightfully good times awaits you in  barleymash A Haunted Circus Halloween with  drink specials, costume contest, prizes and live Djs
Drink Specials: 
The Ring of Fire: Teremana Blanco, Lime, Agave, Jalapeno,  Blood Orange  Rock, Tajin
The Balancing Act: Jagermeister, Bourbon, Aperol, Lemon
The Trapeze:  Jager Cold Brew, Cinnamon Cold Brew, Cinnamon Syrup, Bitters
The Clown Car:  Jager Scharf Hot Ginger, Raspberry, Lemon, Ginger Beer.
FLUXX Nightclub: Wild West Halloween
Friday, October 29 – Sunday, October 31 | 9:00pm – TBD
FLUXX Nightclub presents Wild West Halloween weekend starting 10/29 with DJ Esco, 10/30 Eric Bellinger, and 10/31 Halloween Night with NAS.
Here is the lineup:
October 29, 9:00 p.m. – DJ Esco
October 30, 9:00 p.m. – Eric Bellinger
October 31, 9:00 p.m. – NAS
Surfside Raves Presents: A Halloween Costume
Saturday October 30 – Sunday October 31 | 7:00pm – 2:00am
GET READY FOR THE HOTTEST HALLOWEEN BASS RAVE EVENT IN THE HEART OF DOWNTOWN!
Join us in our graveyard IN COSTUME for some of the Grimiest, Heaviest, and Raviest Halloween sounds to shuffle and headbang to this fall. With 7-DJs set to perform over 7-hours of live music, this event is going to be an unforgettable night you and your friends don't want to miss out on!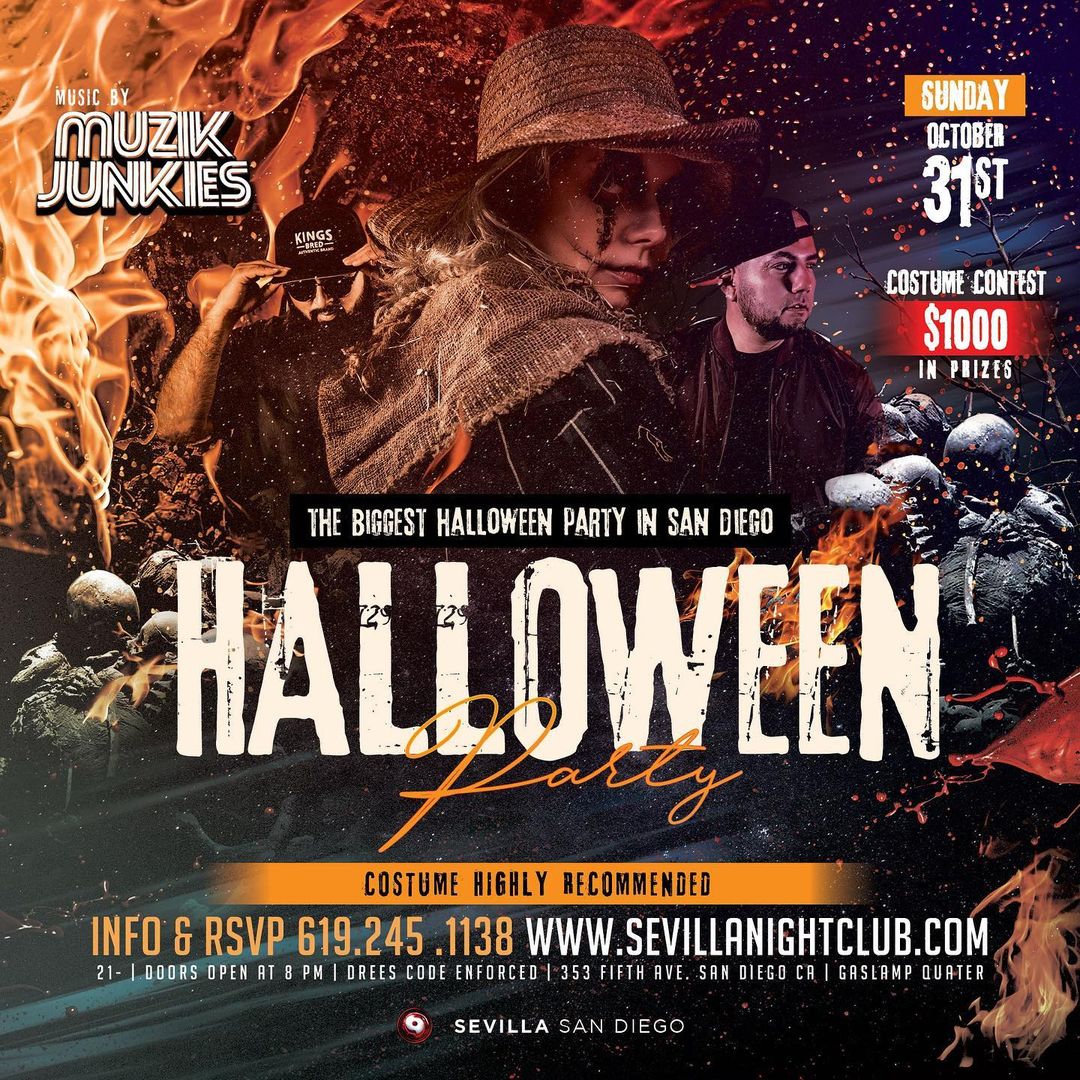 Cafe Sevilla Nightclub: Halloween Party
Sunday October 31 | ALL DAY
Halloween Party, Sunday 10/31 with costume contest $1,000 in prizes. Costume highly recommended
Horton Grand Hotel – Salt & Whisky: Halloween Events 
Saturday Oct. 30th from 3-6pm Adults Only Pumpkin Carving
Sunday 31 October enjoy a devilish good Family Friendly Halloween Brunch.
Adults Only Pumpkin Carving: Tickets include pumpkin, carving kit and a drink (wine, beer, well mixed or Halloween special: the vampire kiss). Guests also get to enjoy 15% off  Salt & Whiskey for the rest of the night. A frightfully good night with a bar in the Courtyard and live music. 
A Family Friendly Halloween  Brunch:  Special 3-course menu, fun cocktails for adults, special goodies for kids. Reservations are highly recommended.
Comedy Confidential at Prohibition Lounge
Sunday, Oct 31st – 7:00 p.m. – 8:30 p.m.
Mark Christopher Lawrence has toured all around the country making audiences laugh and he and his friends are bringing it to you Halloween night in the heart of the Gaslamp at Prohibition Lounge for a hilarious comedy show you won't want to miss!