This last Monday, April 17th was a big day for the Gaslamp Quarter and Downtown San Diego! In 1867 Alonzo Horton sailed into San Diego Bay wide-eyed and brimming with excitement. As his ship docked, Horton dreamed of transforming the dusty plain that lay before him into a thriving port city. He believed San Diego's naturally deep harbor, vast agricultural potential, and amiable climate made the area "a Heaven on Earth." Horton set about purchasing 960 acres along the Bay. He would go on to subdivide the land into the blocks, lots, and streets we know today as the Gaslamp Quarter and much of Downtown San Diego. So "Happy Official Sesquicentennial Gaslamp Quarter and Downtown San Diego!" To mark this illustrious occasion, the Gaslamp Quarter staff embarked on a "homage to father Horton" journey.
First stop was Alonzo Horton's final resting place, Mount Hope Cemetary. In 1869, a citizen committee was formed and given the task of establishing a new, municipal cemetery for San Diego. Earlier municipal cemeteries located near the area of Presidio Park and El Campo Santo in Old Town no longer met the needs of the growing community. Mount Hope Cemetery was selected by the committee and opened in 1871. The committee was led by Alonzo Horton, who is widely regarded as the father of modern San Diego.
It is fitting that Alonzo Horton, "the father of San Diego," is buried at Mount Hope Cemetery. Other notable San Diegans buried at Mount Hope Cemetery include – Elisha Babcock, builder of the Hotel del Coronado; Dr. Charles Merwin Fenn, a founding member of the San Diego Medical Society; Gertrude Gilbert, who was instrumental in saving the exposition buildings in Balboa Park; Nathan Harrison, an early pioneer in the region; Kate Morgan, reputedly the resident ghost at the Hotel del Coronado; merchant George W. Marston, who was involved with establishing Balboa Park, the San Diego Public Library and the Serra Museum; Ah Quinn, a merchant, farmer and leader in the Chinese Mission; and Kate Sessions, San Diego's pioneering horticulturist who chose all of the different trees in the peaceful cemetery.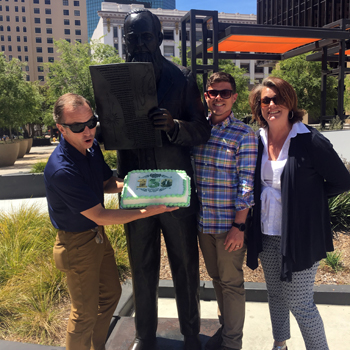 After paying tribute to father Horton and his family with a beautiful bouquet, the staff ventured back to the Gaslamp Quarter and picked up a birthday cake with our 150 Anniversary logo, and went to Horton Plaza Park. The area of the Park was sold to the City of San Diego in 1890 by its namesake, Alonzo Horton. Originally, the plaza was intended for use by his guests staying at the Horton House Hotel. Louis J. Wilde, banker and part-owner of the U.S. GRANT Hotel, donated funds to help build a fountain located in the center of the Park. Irving J. Gill designed the Broadway Fountain, which was completed in 1910 and is still there today!
The Gaslamp Quarter Association is honored to celebrate the 150th Anniversary with lots of celebrations! Make sure to visit Gaslamp.org/150 to stay up to date. You can also join us at our press conference on May 24th from 10-11AM at Gaslamp Square, where all upcoming 150 events will be announced!
Learn more about Father Horton on last week's 150 Factoid. It's amazing what Alonzo Horton did!