Gaslamp Quarter Blissful Couples Getaway
Do you and your partner need a nice relaxing weekend away from the usual routine? Whether you are planning a quick romantic weekend escape or a honeymoon you've always dreamed of, the Gaslamp Quarter offers lots of activities for a couple's staycation. From breathtaking views of the Gaslamp atop a rooftop bar to outstanding accommodations, this romantic staycation will captivate you and leave you feeling more recharged than ever!
Accommodations
There is no wrong choice when it comes to choosing a hotel within the Gaslamp Quarter. Whatever your romantic staycation vibe with your significant other may be, we've got the perfect hotel options to match and enhance any occasion. Choose from boutique, grandeur, or historical for your intimate getaway hotel in the Gaslamp!
Solamar San Diego – Relax, explore and indulge at Solamar San Diego! Located in San Diego's emerging East Village Gaslamp Quarter, Solamar offers a laid back, SoCal vibe with elegant décor and genuine service. 
The US Grant – Embrace timeless elegance in San Diego's Gaslamp Quarter by staying at the US Grant Hotel. Distinguished by quiet glamour and enduring sophistication, the US Grant provides an ideal location from which to explore America's finest city. 
Horton Grand Hotel – Be fully immersed in historic décor, class, and luxurious comfort. The Horton Grand Hotel is one of the most charming urban boutique hotels the city has to offer. 
Play –  Historic Romance  – Salt & Whiskey 
Located in the heart of San Diego's historic Gaslamp District, offering you delicious drinks. Relax as you enjoy the historic beauty with your loved one. 
Dine – Fondue & Chill – The Melting Pot
The best kind of date is the one where you can dip delicious treats into another delicious treat! Savor and choose from creamy cheese fondues, freshly prepared salads, and fondue-style entrees such as seafood and steak, cooked right at your table. 
Dine & Dance – Salsa the Night Away – Café Sevilla
Unwind and salsa the night away at Café Sevilla! Offering you the most authentic Spanish ambiance in their tapas bar, restaurant, and nightclub. Join them for a fun flamenco dinner show and dine on the most authentic Spanish food in San Diego! 
Dine – Enjoy Breakfast at Provisional Kitchen
Begin day 2 of your couple's staycation in the Gaslamp Quarter the right way and energize your day with breakfast at Provisional Kitchen, Café & Mercantile, within Pendry San Diego. It is never too early (or too late) to get that perfect anniversary or birthday gift.
Play – Cycle 'Round the Harbor
The best way to explore the San Diego Harbor is on two wheels! Who doesn't love an active date? Bike the 8-mile trail between Liberty Station and downtown San Diego while stopping at top attractions and taking in the scenic coastal views.
Shop – The Sweetest Date at Ghirardelli
Craving that perfect piece of chocolate after a day of adventure? Stop by Ghirardelli to experience the sweetest date for two right in the heart of the Gaslamp.
Play – Whale Watching for Two
Get up close and personal with the wild sea life of San Diego as you take an exciting boat tour around the San Diego Harbor. Keep a look out for breaching whales or playful dolphins and enjoy the San Diego sea breeze cuddled up to your favorite person!
Dine — A Taste of the Hunt – Huntress
Huntress is the most adventurous and energetic modern steakhouse in downtown San Diego, offering the finest cuts of meat, one of the largest collections of Japanese whisky brands in California, and a contemporary, lively atmosphere where music elevates every dish. Get the entire gang to dress in their finest attire and start the night out at Huntress.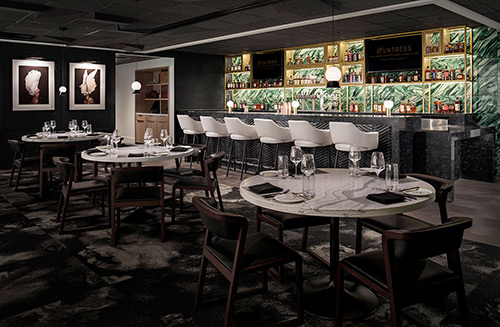 Dine – Savory or Sweet? – Olala Crepes
What is your type of breakfast, savory or sweet? Day 3 closes out your trip at Olala Crepes, offering an array of freshly prepared, high quality, savory and sweet crepes! Let French yumminess fill up you up as you head out of the Gaslamp smiling with memories of your staycation.