Step into Old City Hall for a fun infusion of old meets new, tradition meets modern. The venue pays homage to its historic roots in San Diego while infusing excitement with daily specials, weekly events and nightlife.
The History
Old City Hall was built in 1874 and it was the first building in San Diego to be constructed entirely of materials from San Diego, with many of the original elements still here today. "Old City Hall" has served as home to many San Diegans over the years, as a City Public library, a jail, and the City Chambers. Most recently, it was home to Florent Restaurant & Lounge, but is now transforming to Old City Hall to pay homage to its historic roots.
The Chef Selections
Operational Executive Chef Abe Botello has crafted a taste-forward, New American menu for the Old City Hall. With a menu that features burgers, sandwiches, flatbreads, seafood and taco selections, your options at Old City Hall range from classic favorites to gourmet entrees. New to the menu, Botello debuts a new Mac & Cheese line-up, featuring Truffle Mac, Lobster Mac, Buffalo Blue Mac and more.
Weekend warriors, find your Gaslamp Quarter destination for brunch time bliss at Old City Hall. Start with $15 bottomless mimosas and our brand new Bloody Mary Bar. Once your drink is in hand, opt for lighter selections such as a Pitaya Bowl, Avocado Toast and Yogurt Flight, or satisfy your hunger with our Summer Waffle, Chicken & Waffles or Shrimps & Grits. Best way to start the weekend.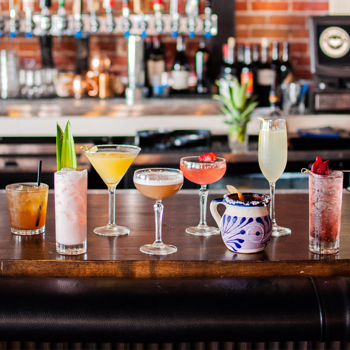 The Craft
The cocktails are crafted to perfection by our award-winning mixologists, led by bar manager Christina Shantz. Our cocktail menu has no shortage of unique and tantalizing infusions. For our hop heads, find an array of draft and bottled beers, with an international roster that focuses mainly on San Diego breweries. Rotating taps allow for beer aficionados to enjoy a variety of flavors each time they grab a drink at Old City Hall. Wine lovers, join us on Wednesday for half off your bottle of vino.
Whether you're a longtime fan of Florent or looking to try something brand new in the Gaslamp Quarter, we invite you to come experience the "new" Old City Hall in San Diego.