Executive Chef Kevin Templeton of barleymash and Executive Chef Colten Lemmer of Union Kitchen & Tap represented San Diego in their first ever appearance on Food Network's Chopped! If you are not familiar with the show, Chopped is an American cooking television game show that pits four Chefs from around the country against each other as they compete for a chance to win $10,000! Both Chefs did an amazing job in the "Epic Burgers" episode that aired on Tuesday, August 6th, where they each cooked up creative burger-themed appetizers, entrees and desserts with surprise ingredients. Our talented Gaslamp Quarter Chefs both made it to the finale with Chef Kevin coming out as the Chopped Champion!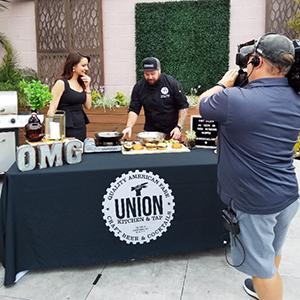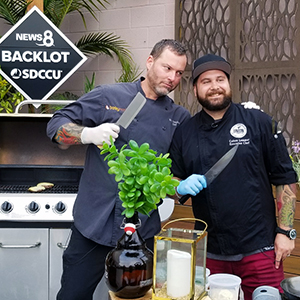 Following their Chopped episode premiere, Executive Chef Kevin Templeton faced off against Executive Chef Colten Lemmer once again in a mini 'Chopped' battle during the 8 a.m. news hour at local news station CBS 8, with anchor Jenny Milkowski. The two chefs recreated their episode on the Food Network show, creating burgers with surprise ingredients from both each other and the news anchor. Who knew Doritos in a burger could be so tasty?
Check out the CBS 8 segment:
Your Next Food Adventure:
Located in the heart of San Diego's Gaslamp district, barleymash is the fun, high-energy downtown restaurant and bar that celebrates the richness of American culture through its appetizing and progressive bar fare. Both the restaurant philosophy and menu offerings draw heavily from two barroom staples: beer and bourbon.
Where: 600 Fifth Avenue, San Diego, CA 92101
For More Information, Please Visit: barleymash
Inspired by San Diego's appreciation for craft beer and craving for fresh, creative cuisine, Union Kitchen & Tap is uniquely suited to provide guests with the best of both worlds. Located in the heart of San Diego's Historic Gaslamp Quarter, Union Kitchen epitomizes the Southern California lifestyle with great music, a stylish yet relaxed atmosphere and of course, a full suite of local craft beer selections. Our relentless pursuit to showcase San Diego's finest craft beers and premium whiskey brands is evident upon entering the front door.
Where: 333 Fifth Avenue, San Diego, CA 92101
For More Information, Please Visit: Union Kitchen & Tap