Gaslamp Quarter Irish Pubs
Gaslamp Quarter  celebrates Irish pubs and eateries just in time for Saint Patrick's Day.
Gaslamp Quarter, CA – The Gaslamp Quarter is San Diego's downtown heart and soul, a melting pot of activities, experiences, shops, libations, and delicious dining opportunities. Whether you're a fan of Irish culture, looking for a lively night out, or simply in the mood for some hearty pub fare and a pint of Guinness, you're sure to find something to suit your taste in this historic neighborhood.
Here are a few Irish pubs in the Gaslamp Quarter that you might want to check out:
The Field Irish Pub:
What happens when an Irish couple with a big dream ships a pub, piece by piece, to the heart of America's finest city? The Field Irish Pub —a genuine bit of Ireland in San Diego's downtown Gaslamp Quarter. Guests can expect a delicious pint of perfectly poured Guinness alongside Irish traditional favorites, nightly entertainment, monthly pub trivia and whiskey tasting dinners, and live European Sports Events like Rugby, Gaelic and Soccer.
The Field's cozy interior features Irish imported décor and highlights one would expect to find in a pub overseas – unlike anything in the Gaslamp Quarter, or San Diego. The Field Irish Pub is a sponsor of the San Diego ShamROCK Festival, a time honored 27-year tradition in the Gaslamp Quarter featuring music, beverage gardens, Irish bites, step dancers, Irish rock, and more festivities in celebration of Saint Patrick's Day.The Field is open seven days a week.
Website:  www.thefield.com​  | Address: 544 Fifth Avenue
Patrick's Gaslamp Pub: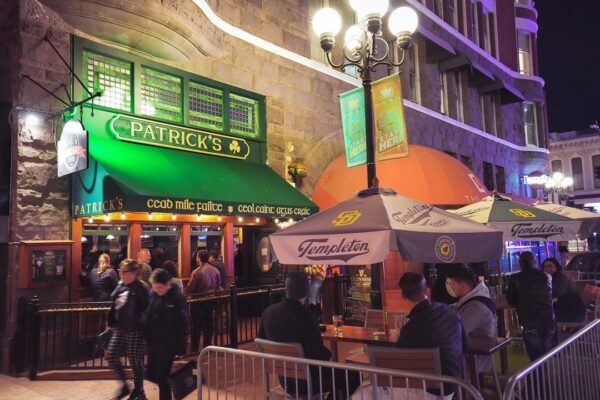 Patrick's Gaslamp Pub a Gaslamp  Quarter staple since opening in 1933. This traditional Irish Pub located at 428 F street its known for its promise of live music, seven days a week.  The  tradition will continues, with a steady rotation of local musicians playing Jazz, Blues, and Rock n' Roll throughout the month.Patrick's offers a lively atmosphere with sports on TV, Irish cocktail favorites, and live music. Opens 7 days a week
Website: www.patricksgaslamppub.com | Address: 428 F Street
Blarney Stone Pub:
A hidden gem in the heart of Gaslamp. This simple family-run Irish pub features regular live music, beers on tap & basic American grub. Blarney Stone Pub in Gaslamp offers broasted foods, Blarney burgers, and pizza, along with St. Patty's sandwiches like Celtic Chicken Caesar, Stewart's Stacked Ham and Cheese, and Redmond's Reuben.
Address: 509 Fifth Avenue
The Patricios Restaurant
Dubbed The Patricios, named in honor of the Los Patricios (St. Patrick's) battalion of Irish immigrants that fought as part of the Mexican Army against the United States in the Mexican–American War, the new bar & restaurant melds a Mexican cantina with an Irish pub. The menu was created with the help of Dobson's Executive Chef Martin San Roman, a Mexico City-native that was classically trained in Paris. There is also a full bar with Irish, Mexican and craft beer, as well as cocktails and wine.
Website: https://thepatriciosrestaurant.com/
Address: 554 Fourth Avenue
In addition to the great food and drinks, many of these pubs also offer live music, trivia nights, and other events that make for a fun and entertaining evening out. So, whether you're a local or just visiting San Diego, be sure to check out the Irish pubs in the Gaslamp Quarter for a taste of Irish hospitality and a good time with friends. Sláinte!
Discover all the Gaslamp St. Patrick's Day festivities, here: https://www.gaslamp.org/news/gaslamp-quarter-st-patricks-day/