New to the Gaslamp Quarter, the chic, minimalist, and funky Moxy Hotel, located at 831 Sixth Avenue, greets travelers and guests with a thoughtful, spirited and fun experience. Guests receive a delicious signature cocktail when they arrive (check-in is at the bar)! As soon as you enter the hotel you know that the lobby is the place to be with plenty of seating, a full-service bar, coffee bar, a large self-service wall nook stocked with drinks, snacks and full meals that is accessible 24/7.
Each Moxy property has its own theme, so with San Diego being a military town and on the water, they decorated with a Marine life theme. Painted Octopus and sea life murals adorn the back lounge of the lobby, along with fabrics on upholstery and pillows adorned with cool boats, sea shells and fish. A beautiful digital light installation sculpture called "FLOW" spirals up through the middle of the 8 floor hotel, glittering with pink lights and symbolizing a waterfall flowing towards the sky. Pacman and Galaga video games, jenga boards and checkers are scattered about so that guests can get a cocktail and connect with a fun game.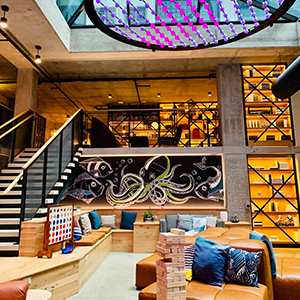 When staying at the Moxy, you can work out in their Gym, housed in an old shipping storage container. This work out space is complete with free weights, machines, elliptical trainers, a custom Moxy exercise bike and even unicorn or festive bike helmets!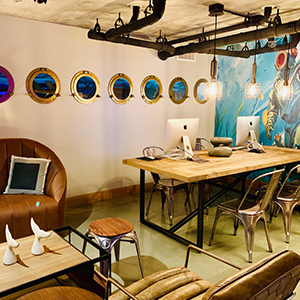 Upstairs from the lobby you can find a library filled with books where guests can decompress on the cushy couches with a good read. There is also a conference room and coffee bar.
Believe it or not there is a secret room! Where? Find out more information on their mysterious website. This exclusive venue has live music, sumptuous bites and high end craft cocktails.
The rooms are small, but expertly designed! Every inch of space is used wisely. Visitors will find plenty of plugs for electronics near the beds, modern lighting, 42" TV, fold-able table, comfy chairs and pegs for clothing. For each room there's also a full-size bathroom with a shower, vanity and upscale amenities.
Designed with millennial social media lovers in mind, the Moxy sports a large video wall in the lobby dubbed "The Guestbook." Guests feed their photos and videos into Instagram and soon see their shots blown up on the wall, constantly changing as the social media feed pours in via their free WiFi. But like any good hotel, privacy is yours if you want it, as posting is at your discretion.