Comic-Con is this week! Are you well prepared? The Gaslamp Quarter is quite the spectacle during Comic-Con filled with activations and events that everyone can enjoy! Learn about great places for people watching, transportation, and the latest changes in this year's event. Keep reading for some tips to experience Comic-Con to the fullest!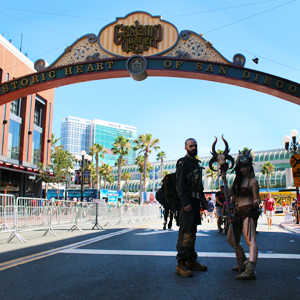 Harbor Drive for Attendee Shuttles and Emergency Vehicles Only
The San Diego Convention Center, in partnership with the Port of San Diego and the City of San Diego, are providing the following information to assist attendees, the general public and stakeholders with information about pedestrian and vehicular access, restrictions and detours during Comic-Con.
Harbor Drive will be used for attendee shuttles and emergency vehicles only. A valid Comic-Con 2019 badge or confirmed registration in hand is required for access to any part of the San Diego Convention Center, including the front drive, terraces, sidewalks, Plaza Park area or the Ace Parking underground garage during the event times listed above. Members of the general public will be able to access the surrounding parks, promenade, public fishing pier, restaurants, shops and water ferries throughout the days of the convention.
WHEN IS THIS HAPPENING?
Harbor Drive – between First Avenue and Park Boulevard – will be restricted to ALL traffic including cars, bicycles, scooters, skateboards and shared mobility devices (dockless bicycles and scooters) on the following days and times:
Wednesday, July 17 (3pm – 10pm)
Thursday, July 18 (7am – 10pm)
Friday, July 19 (7am – 10pm)
Saturday, July 20 (7am – 10pm)
Sunday, July 21 (7am – 8pm)
Transportation
MTS INCREASING SERVICES FOR COMIC-CON
With 15-minute service, or better, to the Gaslamp Quarter and Convention Center Stations, riding the Trolley is the easiest way to join in Comic-Con festivities. Whether you have a coveted pass or will be headed to the fun outside the Convention Center, hop onboard the Trolley for direct service to Comic-Con (the people watching is great, too).
There are also commemorative passes available!
PARKING
Finding parking is difficult during Comic-Con, but there may still be a few available to reserve beforehand! Limited parking spaces will also be available at those parking lots on the day-of on a first come first serve basis.
Great Places to People Watch
Take in all the action in the streets of the Gaslamp Quarter! Sit at one of the many patios, sip on some cold drinks, enjoy some delicious food and watch the people in all sorts of cosplay around the district! Here are 10 patios perfect for people watching!
1) Rockin' Baja Lobster – 310 Fifth Avenue
2) Union Kitchen & Tap – 333 Fifth Avenue
3) Cafe Sevilla – 353 Fifth Avenue
4) Rustic Root – 535 Fifth Avenue
5) Volcano Rabbit – 527 Fifth Avenue
6) Cold Beers & Cheeseburgers – 322 Fifth Avenue
7) Searsucker – 611 Fifth Avenue
8) barleymash – 600 Fifth Avenue
9) Henry's Pub – 618 Fifth Avenue
10) Ghirardelli – 643 Fifth Avenue
Cool down with a cold treat!
The weather is predicted to be in the mid and high 70s for Comic-Con. Walking around and lining up all day gets very tiring, so it's extremely important to make sure you stay hydrated! Why not cool down with a sweet treat? Here are a few places for you to get some delicious dessert!
Olala Crepes
In addition to all their savory and sweet crepes and waffles, Olala Crepes also serves a Brioche Glacee, a toasted brioche filled with creamy ice cream from Moo Time Creamery!
Location: 453 Fifth Avenue, San Diego, CA 92101
Ghirardelli Ice Cream and Chocolate Shop
The Ghirardelli in the Gaslamp Quarter just officially reopened with a newly remodeled venue that is so much bigger and brighter and ready to welcome in all the guests of Comic-Con! Recharge with some chocolate, smoothies and/or their famous sundaes!
Location: 643 Fifth Avenue, San Diego, CA 92101
Le Parfait Paris
Le Parfait Paris is serving up an extensive list of Summer's most unique and delicious gelato flavors! The incredible flavors to choose from are: pineapple /cinnamon, salted caramel, pistachio, wild berry, charcoal vanilla, cookies and cream, espresso and a vegan chocolate gelato.
Location: 555 G Street, San Diego, CA 92101
Chocolate
Chocolate serves everything from salads, paninis, bruschette, pasta to crepes and gelato!
Location: 509 Fifth Avenue, San Diego, CA 92101
Sugar Factory at Theatre Box
Sugar Factory's retail and café at Theatre Box®, the new luxury theatre, dining and entertainment complex, serves a wide variety of gelato and ice cream flavors! Guests can customize their own sundaes in the month of July for National Ice Cream Month with their choice of sundae base with any combination of more than 500 candies and chocolates.
Location: 701 Fifth Avenue, San Diego, CA 92101
BIGA
Biga is a unique celebration of handcrafted Italian cuisine. In addition to their delicious sandwiches and pizzas, they also serve gelato!
Location: 950 Sixth Avenue, San Diego, CA 92101
No Badge Required Comic-Con Events and Specials:
Don't have a Comic-Con badge? No worries! There's still lots of events, specials and activations happening throughout the Gaslamp Quarter open to everyone! Don't miss out on all the action and get ready to immerse yourself in all the greatness of Comic-Con!