There is always something new popping up and joining our vibrant historic neighborhood! Here are some new places that opened up in the past few months, and get ready for a memorable experience in the Gaslamp Quarter!
827 Fourth Avenue, San Diego, CA 92101
Illusions Theatre & Bar is the perfect combination of entertainment and food. They feature an amazing journey with a magical entry, escape room, strolling magicians, art & ambiance, a gourmet 3-course dinner, decadent dessert followed by a spectacular parlor magic performance on stage. Guests are encouraged to stay after the main show to see additional strolling magic at your table. Also don't forget to browse the magic store for that perfect gift, souvenir, or new magic trick that you would love to learn to perform yourself!
Hours:
Friday – Saturday: 6PM – 10:00PM
672 Fifth Avenue, San Diego, CA 92101
Florent Restaurant and Lounge recently rebranded into the Old City Hall! The venue pays homage to its historic roots in San Diego while infusing excitement with daily specials, weekly events and nightlife. Operational Executive Chef Abe Botello has crafted a taste-forward, New American menu for the Old City Hall. With a menu that features burgers, sandwiches, flatbreads, seafood and taco selections, your options at Old City Hall range from classic favorites to gourmet entrees. New to the menu, Botello debuts a new Mac & Cheese line-up, featuring Truffle Mac, Lobster Mac, Buffalo Blue Mac and more.
Click here to learn more about their transformation
Hours:
Monday – Friday: 11AM – 2AM
Saturday: 10AM – 2AM
Sunday: 9AM – 2AM
Happy Hour: Monday – Friday: 4PM – 6PM
467 Fifth Avenue, San Diego, CA 92101
Monkey King has been a part of the Gaslamp Quarter for a while, but they recently joined GBOD Hospitality Group's portfolio of restaurant and bars as their 6th concept with the launch of a brand new food and drink menu in late June. Their cocktails are inspired by the South Pacific while their menu takes inspiration from Southeast Asian cuisine, combining authentic dishes with contemporary preparations and local seasonal produce.
Hours:
Sunday – Wednesday: 5PM – 1AM (Kitchen open until 11PM)
Thursday-Saturday: 5PM – 1:30AM (Kitchen open until 1AM)
644 Fifth Avenue, San Diego, CA 92101
Route 29 is a new restaurant designed with Northern California's iconic wine country culture in mind that opened in July! This farm-to-table "wining and dining" destination features an open kitchen that's hyper-focused on preparing sustainable, local ingredients and a healthy list of vegan options. The restaurant has an impressive lineup of around 150 wines chosen by renowned sommelier, Nemanja Pejcic, which includes roughly 30 by the glass options designed to complement the food they offer.
Click here to see the delicious food we tried!
Hours:
Daily: 4PM – 10:30PM
Happy Hour: 4PM – 6PM
755 Fifth Avenue, San Diego, CA 92101
Tocaya Organica was born out of a mission for better eating. They created a movement behind their signature 'Modern Organic Mexican' cuisine by using the highest quality ingredients paired with bold flavors. Their versatile menu is rooted in traditional Mexican recipes, offering salads, tacos, bowls, and burritos, serving them in a sophisticated yet accessible fast casual setting while also accommodating a variety of preferences including vegan, vegetarian, and gluten-free. Everything at Tocaya is locally sourced and they only serve meats and fish that are fresh, never frozen, and are 100% percent free of hormones, steroids, and antibiotics.
Hours:
Brick & Mason
555 Market Street, San Diego, CA 92101
Brick & Mason is a new hair salon that opened up at Sixth and Market, sharing space with The Smoking Gun and Spill the Beans. You are guaranteed to receive an amazing service while enjoying a craft cocktail, draft beer, Dark Horse Coffee, or house made bagel!
Hours:
The Dive SKC
551 J Street, San Diego, CA 92101
The Dive Steam Kettle Cooking, a Cajun-Creole inspired restaurant, introduces Southern comfort food to San Diego through our specialty kettle bar. They strive to use quality ingredients and seafood — delivering the most flavorful dishes to San Diego diners. The Dive SKC aims to create a lively dining experience that welcomes families, dates, business meetings and everything in between.
Hours:
Sunday – Thursday: 11:30AM – 10PM
Friday – Saturday: 11:30AM – 11PM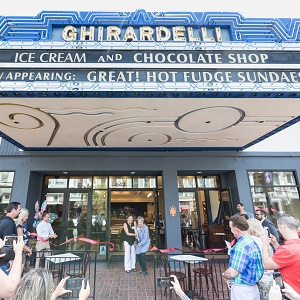 Ghirardelli Ice Cream and Chocolate Shop
643 Fifth Avenue, San Diego, CA 92101
Ghirardelli fans rejoice! Many were sad to see Ghirardelli close its doors in the Gaslamp Quarter, but it was just all for a remodel! Ghirardelli reopened just in time for the Summer season with a bigger and brighter venue, allowing their customers to have a better experience enjoying their delicious sundaes inside the store. Their #Rabbitville sculpture, Nelly Ghirardelli, now also lives inside the store! Go visit Nelly and satisfy your sweet tooth!
Hours:
Sunday – Thursday: 11AM – 11PM
Friday – Saturday: 11AM – 12AM
iSweat Lodge
560 Sixth Avenue, San Diego, CA 92101
iSweat Lodge utilizes infrared heat and whole body vibration to treat a myriad of ailments while detoxifying your body. From helping arthritis, skin disorders, to poor circulation, this cozy "spa-like" atmosphere has been gaining popularity among the locals in Bird Rock, since its opening in late October 2016 and opened up in the Gaslamp Quarter in April 2018. With the use of infrared therapy body wraps you experience a deep, penetrating heat energy that provides a heightened sense of well-being and healing.
Hours:
Juan Tequila Bar & Restaurant
535 Fourth Avenue, San Diego, CA 92101
Juan Tequila is a new Baja California inspired cocktail and seafood bar on Fourth Avenue. Relying on ancient and modern techniques and cross-border ingredients with a nuevo approach to menu delivery, the culinary story highlights oysters with a custom made oyster bar, seafare from baja and produce, highlighting the southern california region, including foraged ingredients.
Hours:
Sunday – Wednesday: 5PM – 12AM
Thursday – Saturday: 5PM – 2AM
Sole Concepts
520 Fifth Avenue, San Diego, CA 92101
Local family owned Birkenstock of San Diego Stores expands their footprint with a 2,500 square foot concept shop in the Gaslamp Quarter! This store caters to customers seeking premium brands from all over the world, including Birkenstock, Olukai, Vionic, and Pikolinos, as well as a number of smaller specialized brands. Sole Concepts is carrying a deeper selection of styles than any other locations.
Hours:
Sunday – Thursday: 10AM – 8PM
Friday – Saturday: 10AM – 9PM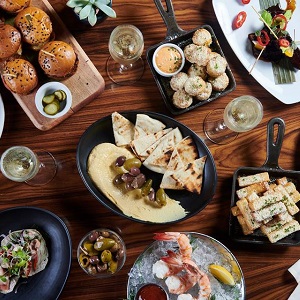 STK San Diego
600 F Street, San Diego, CA 92101
STK San Diego, located at the Andaz San Diego, finally opened its doors this July! STK San Diego artfully blends two concepts into one—the modern steakhouse and a chic lounge. Theatrical lights illuminate each table, large windows allow patrons to catch a glimpse of the bustling Gaslamp Quarter, while a DJ creates an energetic vibe throughout the entire space. The main attraction at STK is of course, the steak. They offer small, medium and large cuts of meat, as well as market fresh fish entrees, and various dishes to please any palate. Aside from steak, signature items include Parmesan Truffle Fries; Lil' BRGs; Tuna Tartare; and Sweet Corn Pudding.
Hours:
BRUNCH:

Saturday & Sunday: 11-3pm

DINNER:

Sunday – Thursday: 5PM-10PM
Friday & Saturday: 5PM–11PM

BAR:

Sunday: 5PM-11PM
Monday – Thursday: 3:30PM-11PM
Friday: 3:30PM-12AM Midnight
Saturday: 5PM-12AM Midnight

Happy Hour by STK:

Monday – Friday: 3:30PM-6:30PM
Tropical Savor Bar and Grill
729 Fourth Avenue, San Diego, CA 92101
Tropical Savor Bar and Grill is a new Latin-Carbbean restaurant that opened on Fourth Avenue. They feature Puerto Rican, Dominican, Cuban and Jamaican cuisine with authentic savor and great cocktails!
Hours:
Monday – Thursday: 11AM – 11PM
Friday – Saturday: 11AM – 1AM
Sunday: 11AM – 10:30PM