Open House San Diego is happening this weekend on March 24th and 25th! This free event celebrates the best of our city's architecture by offering behind-the-scenes access to 40+ iconic sites. Each one contributes in a unique way to the fabric of our city, with architectural, historic or cultural value. Some will offer scheduled talks and guided tours on a first-come, first-served basis. Others will require reservations. Check out below for a list of locations in the Gaslamp Quarter!
For more information, please visit Open House San Diego.
THE US GRANT HOTEL
326 Broadway
Harrison Albright, 1910 / Renovation, 2017
SAT 10AM – 2PM / Self-guided tour
Built by the son of 18th U.S. President Ulysses S. Grant, this hotel is a treasured historic landmark. Designed to crown San Diego's "City Beautiful" Movement, the architect combined several classical architectural styles and employed the use of steel and reinforced concrete as a fire and earthquake–proof frame. The regal surroundings highlight the hotel's Presidential legacy and the heritage of the current owners, the Sycuan Band of the Kumeyaay Nation. The hotel's rich history includes stays by 15 US presidents, Charles Lindbergh, and Albert Einstein.
#Rabbitville is also currently on exhibition at the US GRANT!
COURTYARD BY MARRIOTT SAN DIEGO DOWNTOWN
530 Broadway
William Templeton Johnson, 1928 / Renovation, 1999
SAT & SUN 10AM – 4PM / Self-guided tour
Once home to the San Diego Trust and Savings Bank, this building retains the grand character that distinguished it in its prime. Exquisite remnants of the former bank grace the interior and cohesively mix with the fresh, contemporary style of the hotel. Explore the soaring former banking hall with its dramatic coffered ceilings, arcades and medallions, all typical of the Romanesque revival style.
THE KEATING HOTEL
432 F Street
The Reid Brothers, 1890
SAT & SUN 10AM – 4PM / Guided Tour
In its prime, this five–story Romanesque Revival style structure was one of the most prestigious office buildings in San Diego. It featured modern amenities such as spacious floor plans, steam heat, and a wire cage elevator (the first, and still longest–running, elevator in downtown San Diego). Today, the Keating serves as a design–centric boutique hotel with 35 loft–like rooms.
THE NEW CHILDREN'S MUSEUM
200 West Island Avenue
Rob W. Quigley, FAIA, 2008
SAT 4PM / Designer-led tour / Reservation required
Constructed of tilt–up concrete and glass with a striking solar panel saw-tooth roof, this dramatic building is one of the first "green" museums in California; the main galleries feature a passive circulation system that pull bay breezes through the building. The tour will highlight various architectural features such as the 17–foot concrete entrance bridge, skylights that fill the 3–level space with daylight, and flexible spaces that expose the building's structure and materials.
SAN DIEGO CHINESE HISTORICAL MUSEUM
404 Third Avenue
Louis Gill, 1927 / Joseph Wong, 1996
SAT 10:30AM – 4PM / SUN 1PM – 4PM / Self-guided tour
This Mission Revival style building served as the home of the Chinese Community Church of San Diego's Chinatown for many decades. When it was slated for demolition in the 1990s, the community rallied together and saved the building. It was relocated to its current site and converted into a museum exploring San Diego's rich Chinese history. Visitors may also enjoy the serene Chinese–style garden with its traditional entry gate, waterfall and koi pond.
GASLAMP MUSEUM AT THE DAVIS-HORTON HOUSE
410 Island Avenue
Built 1850
SAT 1PM – 4PM / SUN 12PM – 4 PM / Self-guided tour
The Davis–Horton House is the oldest building in downtown San Diego. Home to two of the founding fathers of modern San Diego, William Heath Davis and Alonzo Horton, this pre–fabricated saltbox house was originally shipped all the way from Portland, Maine. It was relocated to its current site in 1981 and restoration began, including electricity being installed for the first time in 1984. Today, the museum showcases San Diego's early history and is thought to be haunted by a former resident.
SPARKS GALLERY
530 Sixth Avenue
Built 1924 / Architects Hanna Gabriel Wells, 2015
SUN 11AM – 4PM / Self-guided tour
This contemporary art gallery is housed within the historic Sterling Hardware Building, whose past also included a vaudeville theater, carriage repair shop and glass works. The brick and timber structure was thoughtfully repurposed and modernized while remaining true to the vintage feel of the space. The original maple floorboards and brick walls were restored and a steel–framed mezzanine inspired by traditional exterior fire escapes was added.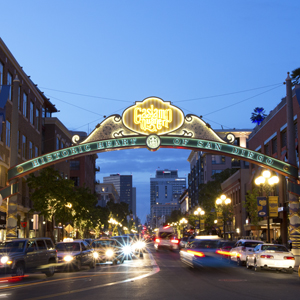 GASLAMP ARCHITECTURAL WALKING TOUR
900 Fourth Avenue
SUN 1PM / Reservation required / Meet at Broadway Fountain in Horton Plaza Park
Former City Architect, Mike Stepner will open a window to San Diego's past through the history, development and architecture of the Gaslamp Quarter. The tour includes architecturally significant structures of the period from Old City Hall (1874) to the Baroque Revival Louis Bank of Commerce (1888), along with fascinating stories of the characters that shaped San Diego.
Courtyard by Marriott San Diego Downtown
The New Children's Museum
San Diego Chinese Historical Museum
Gaslamp Museum at the Davis-Horton House