With the sudden cold air mass hitting San Diego, a savory and warm bowl of ramen at Ramen Yamadaya, located at 531 Broadway in the historic Samuel Fox Lofts building, is the perfect remedy to combat this chilly weather!
Ramen Yamadaya's specialty is their Tonkotsu broth ramen noodle. The rich flavored soup is cooked with pork bones after more than 20 hours of boiling. The first 10 hours, the soup is boiled at the highest temperature to break down the bones, and then simmered for another 10 hours to extract all the flavor and aroma from the pork bones. The soup must be constantly watched over and stirred to ensure that it doesn't get burnt or overcooked. This long process definitely doesn't go to waste as all customers can taste the rich and flavorful soup the moment they take their first bite.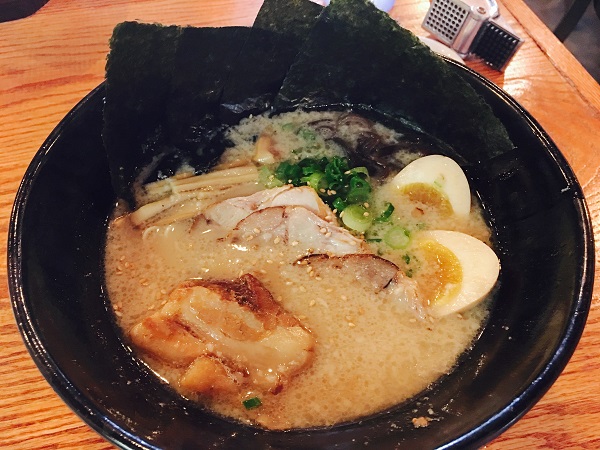 Guests have the option of the Tonkotsu Kotteri, Tonkotsu Spicy, Premium Shio, Premium Shoyu, Vegan Ramen, Yamadaya Ramen or Kakuni Ramen. In addition to ramen, they also serve a variety of other Japanese dishes such as takoyaki, kara-age chicken, salads, Japanese bento rice dishes and more. If you want a little bit of everything, they also have a ramen combination option in which you get to choose your bowl of ramen and also get a smaller version of the bowls and salads!
Every day is a good day for ramen, but it's even more perfect on a chilly day. So get ready to sip some hot soup and slurp some noodles at Ramen Yamadaya today!
Monday – Friday:
11:30AM – 3:00PM
5:30PM – 10:00PM
Saturday – Sunday:
Where: 531 Broadway, San Diego, CA 92101