Gaslamp Fish House, formerly known as Spike Africa's, is on the corner of Fourth and Broadway, between Horton Plaza and the US Grant Hotel, just minutes away from the Convention Center and Petco Park.
The GQA staff had the opportunity to enjoy lunch as well as honor them with the People's Choice Award for Best Dish for the 24th Annual Taste of Gaslamp. Out of 26 participating General Admission Restaurants and 7 VIP Restaurants in the annual festival, Gaslamp Fish House won Best Dish!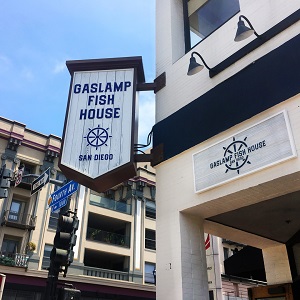 Gaslamp Fish House pays homage to Spike Africa and the memory of a true sailor, whose life was dedicated to the ocean. Captain Spike was one of the last great "tall Ship" schooner captains on the west coast. He sailed the waters from Alaska to Tahiti for most of the 20th century.
This delicious restaurant provides guests a unique fusion of Mediterranean and American Cuisine. Their oyster bar, and fresh fish and seafood are sourced locally and responsibly from sustainable and environmentally conscious fisheries.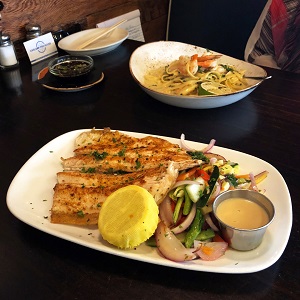 What We Enjoyed:
The GQA Team ordered a beautiful Appetizer on their lunch menu, the Pamplemousse & Ahi Tuna platter. The succulent Grapefruit, fresh avocado, watermelon radish and chunks of sushi grade Ahi tuna was laid out beautifully with a side of ponzu sauce that could be dipped and shared.
Sherry enjoyed the Catch of the Day! Which was fresh trout rubbed in Cajun spices and served with fresh julienned vegetables.
Erin enjoyed the Tequila Lime Shrimp Linguini. This dish was also very popular at Spike Africa's so decided to keep on the menu. This pasta had juicy shrimp tossed with vegetables and a delicious creamy sauce.
Finally, Sherry and Erin couldn't complete the meal without trying the award winning Butterscotch pudding that got them the peoples choice award for best dish at the 24th Annual Taste of Gaslamp! This was so incredible, rich and creamy!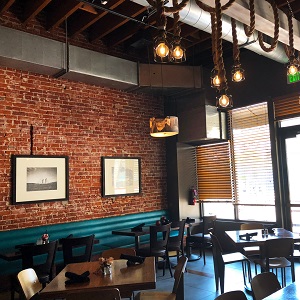 Insider Tips:
The Lunch Combo is a can't miss! Choose an entrée, with soup or salad for $12! You can also choose $4 beer or wine to round out your meal!
The back of the restaurant has a great place where you can host a private party! Plenty of room for friends! And for a great celebration!
Happy Hour is every day from 3:30-6:30 with an incredible fresh raw bar, delicious appetizers and $5 drink specials.
The Gaslamp Fish House has 16 local beers on tap, and receives fresh fish for their menu daily!
Gaslamp Fish House
Make your reservation now!
Phone: (619) 795-3800
Location: 411 Broadway, San Diego, CA 92101