Peru meets California with Lima Peruvian Food & Cocktails on the corner of F Street and Fourth Avenue. This traditional Peruvian restaurant celebrates the diversity of the Peruvian culture by sharing authentic and regionally influenced criollo cuisine. The opening of Lima Restaurant represents a longtime dream of restaurateur Javier Granda. His new culinary proposal, Lima Peruvian Food & Cocktails takes his love of his homeland, its people and its food and puts it all in a beautiful and welcoming restaurant. He named this restaurant after Peru's capital, Lima, which is also the word for "lemon" in Spanish. The country's largest city is where all the dishes of regional Peru come together. Peruvian cuisine is a fusion of different cultures which have come together to form a distinctive blend of flavors and techniques. With the arrival of European and Asian immigrants centuries ago, their ingredients and customs intertwined over the decades with those of the locals, creating what is known as Peruvian cuisine. We were able to enjoy lunch and learn more about the food and culture of Lima, Peru.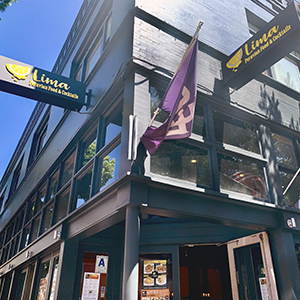 What We Enjoyed:
We all started with a refreshing passion fruit juice beverage called, Maracuya
Next, we ordered off the lunch specials menu available every day from 11am-3pm
Sherry enjoyed the perfectly seasoned Quinoa Con Hongos Portobello. This is a great dish for Vegetarians.
Erin enjoyed the Tallerines Verdes Noodles, that had a subtle pesto like covering and garnished with cheese and edible flowers.
Other lunch specials people could choose from were the Chicharron, Papa Rellenas, Solterito (cheese salad) and Tacu Tacu with Egg.
For dessert Javier brought out a Lucuma cheesecake. "Everyone in Lima loves Lucuma" said Javier, the fruit is a Peruvian citrus with a subtle orange flavor topped on a silky cheesecake.
Insider Tips:
Along with the lunch specials Lima also has a great Happy Hour, from 3-7PM daily. Guests can choose between Grilled Octopus, Seafood Wontons, Chicken Empenadas, Beef Anticucho (a Peruvian favorite) Chicken Wings, and Tequenos.
Guests of the restaurant can also enjoy dinner specials Monday -Thursday for just 7.99!
Lima is also excited to host up and coming festivals and has done some community celebrations like at the Peru house in the International Village in Balboa Park.
Lima is open from 11am-9pm Monday- Thursday, 11am-10pm Friday and Saturday and 11am-8pm Sunday. Make your reservations today!
Hours:
Monday – Thursday: 11AM – 9PM
Friday – Saturday: 11AM – 10PM
Sunday: 11AM – 8PM
Location: 409 F Street, San Diego, CA 92101
Phone: (619) 501-1001
For More Information, Please Visit: Lima Peruvian Food & Cocktails