It's hard to miss the life-sized Alpaca sculpture outside of the delicious Peruvian cuisine restaurant, Machu Picchu, on Fifth Avenue. The GQA staff got the chance to try their authentic cuisine and LOVED it! This Peruvian restaurant has traditional and authentic favorites from the three branches of the geographically diverse country: seaside, mountain and rain forest. The owner, Victor Florian is from Peru, and makes sure that the staff is knowledgeable about the fresh unique ingredients, the food and shares in his passion for the culture.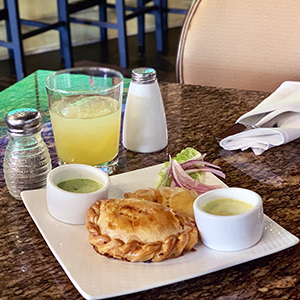 What We Enjoyed:
We were served two different juices to sip with our meal. One was a house made Chicha Morada. This is a beverage originated in the Andean regions of Peru but is consumed at a national level. Deep purple in color and made from dried corn, non-alcoholic chicha morada ("purple beverage") is undisputed as Peru's iconic refreshing drink. The flavor is slightly rustic, mildly sweet, and surprisingly invigorating due to the spices used in its preparation. We also enjoyed a refreshing Maracuya (Passion Fruit) Juice.

Our meal started off with the Anticuchos, which are seasoned beef skewers with grilled potatoes, Peruvian corn and two authentic dipping sauces! An aji and a spicy verde sauce.

Next Victor served us a Papa Rellena. The dish is a stuffed potato crispy on the outside and gooey on the inside with potato and a sautéed beef filling.

The Empanadas were also delicious. We ordered two, one filled with Chicken and the other beef. This was also served with authentic Peruvian dipping sauces.

Then we shared the Seco de Res, a slow roasted beef stew cooked with Peruvian spices like cilantro, hucacatay, bierba buena, chincho and cinnamon!
Insider Tips:
Machu Picchu has a great menu of unique craft cocktails, like the Pisco Sour, the Maracuya Sour, the Chicha Sour and different flavors of Caipirinhas and Margaritas!

Their second floor mezzanine is available for private parties

A great photo op is taking your photo with the huge Alpaca on their patio

Watch International soccer games on their gigantic Television behind the bar!

You can find Live Music on the weekends
Don't miss this ethnic gem in the Gaslamp Quarter! Machu Picchu's hours are Sunday-Thursday 10am-11pm and Friday and Saturday 10am-12am.
Machu Picchu will also be a participant in the 25th Annual Taste of Gaslamp presented by Karl Strauss June 15, 2019. Get your tickets today at www.tasteofgaslamp.com.
Machu Picchu Bar & Restaurant
314 Fifth Ave, San Diego, CA 92101