Let's say you are in San Diego, but would like to transport yourself to the food, hospitality and distinctive regional cuisine of New Orleans! Well, don't jump on a plane to the French Quarter, go right to The Dive SKC in the Gaslamp at 551 J St, San Diego, CA 92101. The cuisine of The Dive SKC is heavily influenced by Creole, Cajun, and soul food flavors and spices. The fresh seafood, and delicious aromas transfix every guest.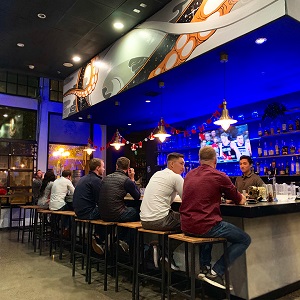 Steam Kettles adorn the rustic open venue. These Kettles are set up so guests can see the chef's steam the fresh seafood and watch the listen to the sounds of their artistry.
When we entered the restaurant/bar we were immediately greeted by Randy Caniglia, the General Manager, who leads a staff that has been trained in Southern Hospitality charm. Guests feel like family where they are welcomed, educated about the specialties of the restaurant and of course connect with each guest so that they come again and again. The food also is "spiced/ seasoned to order" you can tell your server if you enjoy a 1-10 spice level. One of the owners, John Ramirez and his wife Mary Katherine lived in New Orleans for 23 years and owned multiple restaurants in the French Quarter. "The Dive and its food take you right to the flavors and spices of New Orleans. The owners and staff at the Dive have developed what we know, which is to be on point with the food, and hospitality!" Said Ramirez.
What We Enjoyed:
We started out with some appetizers. First the chowder fries which are The Dive's crispy Cajun fries smothered with their creamy and chunky homemade New England style clam chowder and topped with melted cheddar cheese, bacon bits, and red onion. Served in a cast-iron skillet.
Then we received their Bacon Wrapped Shrimp. Jumbo shrimps marinated with molasses and wrapped in crisp smoked bacon for a sweet and savory surprise. The shrimps could be dipped in a spiced mustard served on the side.
Next the Boudin Balls- This Southern comfort food is a mixture of hand rolled Cajun pork sausage and rice and deep fried for a crunchy texture on the outside and gooey, soft bite on the inside. Served with Creole mustard.
For the Entrees Sherry enjoyed the Cioppino which is a sweet tomato soup featuring flavors of the sea with an assortment of fresh shrimp, King Crab legs, calamari, mussels, little neck clams, and white fish stewed with a slew of aromatic herbs and spices. Served with linguine.
I enjoyed the Bouillabaisse. A gorgeous saffron tomato leek-based soup filled with lobster, shrimp, crab, white fish, mussels, & little neck clams! The complexity of the broth with the warm perfectly cooked seafood is truly amazing. I had to take some home!
We had a side of warm French bread on the side perfect to dip in the scrumptious broth
For desert we had an array of incredible sweet treats to choose from. We both HAD TO HAVE a beignet, which The Dive SKC is one of the only places in San Diego where you can get a legit, fluffy New Orleans pastry. The square-shaped pastry is made with deep-fried choux dough, topped with powdered sugar and a side of berry compote to dip! Tres Bon!
We also ordered the bread pudding baked to perfection served with vanilla ice cream drizzled and with bourbon caramel!
Insider Tips:
-The Dive SKC has a lunch menu that has a lot of the Dinner entrees but in smaller portions with yummy choices of sides.

-Don't have enough lobster, andouille sausage or okra in your entrée? No worries, you can add in delectable morsels for a small cost!

-The Dive SKC won the Gaslamp Gingerbread Builders competition and have the most incredible structure on display until New Years eve! All the little bricks in the house are mini beignets!

-SKC stands for Steam Kettle Cooking!

-You can easily Park at the 6th and K Parkade for just a 1$ an hour only a block away!

-Weekdays from 3PM-6PM: Enjoy $5 drinks, $1 oysters and ½ off select appetizers (Cajun fries, chowder fries, fried calamari, sprouts and boudin balls)

-Wind down with the Dive SKC every Wednesday from 7PM-9PM with a glass of wine and acoustic music. Save ½ off with select bottles of wine!
Special Promotion if you reference this article!!!
Buy 2 entrees and an appetizer and reference this article to receive a bottle of house White or Red Wine for $1!!
Hours:
-Sunday – Thursday: 11:30am-10:00pm

-Friday – Saturday: 11:30am-11:00pm
Where: 551 J Street, San Diego, CA 92101
Phone: (619) 501-2845
The Dive SKC
551 J Street, San Diego, CA 92101