RMD Group, San Diego's leading hospitality group, today announced Lumi by Akira Back, an upscale dining experience offering modern Japanese fare, sushi and handcrafted cocktails. Lumi will take over the 5,000 square-foot rooftop of the former Grand Pacific Hotel building, which will also house the recently announced Huntress, a contemporary steakhouse, bringing innovation and Michelin-starred culinary excellence to the rapidly expanding San Diego dining scene.
"Akira Back embodies our vision for Lumi, which makes him the perfect partner for this concept," said Mike Georgopolous, partner at RMD Group. "He's known for creating some of the best sushi and Japanese cuisine in the world and we look forward to combining his innovative menus with an exciting dining environment to create an unforgettable experience."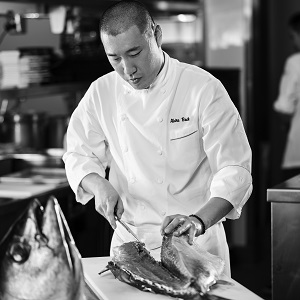 Born in Korea and raised in Aspen, Colorado, Back brings a sense of adventure and boundless creativity to his culinary creations. A professional snowboarder turned chef, Back realized that he felt the same thrill in the kitchen as he did on his board, shaping his decision to pursue a full-time culinary career before opening his own celebrated restaurants on the Las Vegas Strip, Yellowtail by Akira Back and Kumi by Akira Back.
Following the mega successes of his Las Vegas endeavors, he opened his namesake Akira Back restaurants in Toronto, Bangkok, Vietnam, Singapore, New Delhi and Jakarta. He also owns Dosa in Seoul, one of the top fine dining restaurants in his native country Korea which has won a Michelin Star two years in a row.
Chef Back provides a unique experience that leaves people emotionally connected to him and his restaurants. Each of his restaurants features inventive menus that embody his life and travel inspirations throughout the world, representing the root of his culture and his culinary background in every dish.
Akira Back is one of the most exciting names in the culinary world, growing rapidly across major international cities. Scheduled openings in 2019 and 2020 include Dubai, Dallas, Los Angeles, Bali and San Francisco.
Lumi will showcase Back's signature cuisine with a California twist, sourcing ingredients from local purveyors and tapping international flavor profiles to create an immersive dining experience.
In addition to its Japanese-inspired menu, Lumi will boast a top-tier selection of Japanese sake, including Junmai-shu, Honjozo-shu and Ginjo-shu; as well as Akira Back's shochu and his plum sake, all of which are available exclusively at Lumi in San Diego. Cocktail selections will showcase Japanese whisky and sake as well as other traditional flavors like yuzu and lychee. Lumi will also be the first restaurant in San Diego to have a Toki highball machine, which will produce effervescent, refreshing whisky cocktails; and a hand-selected menu of Japanese beers.
Lumi's design will be brought to life by award-winning Southern California design firm Davis Ink. The design combines traditional Japanese architecture with modern design elements and pops of color, creating a vividly unique atmosphere. Many of the materials used will be organic; the outdoor bar will be constructed with large granite boulders and the ceiling above the enclosed bar will consist of raw wood planks with the rooftop layered with live greenery.
The seating at Lumi, including intimate booths and setees, is designed to accommodate an intimate dining experience with the ability to transform into a more lounge-inspired space for socialization later in the evening. Lumi will feature two large bars, one permanently covered and enclosed within a traditional Japanese shell and the other floating directly above J Street. Guests can also enjoy inviting fire pits, three-dimensional art installations and DJ performances on select evenings.
Lumi will be open for dinner Monday to Friday from 4 p.m. to close. On Saturdays and Sundays, the restaurant will offer brunch from 11 a.m. to 3 p.m. and will serve a limited menu from 3 to 5 p.m. prior to formal dinner service, which will run from 5 to 10 p.m. Follow along on social media via Instagram at @lumirooftop and Facebook at @lumirooftop.