The San Diego Half Marathon & 5K is this Sunday, March 11th! After the race ends, enjoy $1 beers and delicious food in the Gaslamp Quarter! Lots of businesses are offering special deals for finishers including retail stores! Check out below and plan your after the race celebration!
Special Offers for Finishers:
$1 Beer Specials*:
*To redeem the listed craft beer for only $1, please be prepared to show your bib and finisher's medal. Limit is one per finisher.
Rockin' Baja Lobster
14 oz Karl Strauss, Aurora Hopplis IPA, .394 Pale Ale
Opens at 7:00AM
310 Fifth Avenue, San Diego, CA 92101
The Field Irish Pub
12oz Half Door Roark Red Ale
Opens at 7:00AM
544 Fifth Avenue, San Diego, CA 92101
Henry's Pub
14oz Saint Archer Blonde
Opens at 9:00AM
618 Fifth Avenue, San Diego, CA 92101
Tin Roof
12oz Karl Strauss
Opens at 9:00AM
401 G Street, San Diego, CA 92101
Whiskey Girl
10oz Bartender's Choice
Opens at 9:00AM
702 Fifth Avenue, San Diego, CA 92101
Florent Restaurant & Lounge
Mission Brewery Blonde Opens at 9:00AM 672 Fifth Avenue, San Diego, CA 92101
BIGA
Your choice of full-sized beer with $15 Pizza Deal
Opens at 9:00AM
950 Sixth Avenue, San Diego, CA 92101
Searsucker
Malarkey Pub Beer, $18 Bottomeless Mimosas
Opens at 10:00AM – 3:00PM
611 Fifth Avenue, San Diego, CA 92101
Gaslamp BBQ
10oz Bartender's Choice
Opens at 10:00AM
524 Island Avenue, San Diego, CA 92101
Maryjane's at the Hard Rock Hotel
15% off bill, $18 bottomless mimosas
Opens at 6:30AM
207 Fifth Avenue, San Diego, CA 92101
The Broken Yolk Cafe – Gaslamp
20% OFF with bib
Opens at 6:00AM
355 Sixth Avenue, San Diego, CA 92101
The Field Irish Pub
$14 Irish Breakfast
Opens at 7:00AM
544 Fifth Avenue, San Diego, CA 92101
Rockin' Baja Lobster
$20 breakfast special (choice of baja breakfast sandwich, breakfast burrito, carne asada and eggs) w/ churro
Opens at 7:00AM
310 Fifth Avenue, San Diego, CA 92101
Le Parfait Paris
10% off with bib
Opens at 8:00AM
555 G Street, San Diego, CA 92101
BIGA
$15 Deal Pizza slice with full-sized beer combo
Opens at 9:00AM
960 Sixth Avenue, San Diego, CA 92101
Garage Kitchen + Bar
10% off entire bill, $8 bottle of champagne
Opens at 9:00AM – 3:00PM
655 Fourth Avenue, San Diego, CA 92101
Henry's Pub
25% off food
Opens at 9:00AM
618 Fifth Avenue, San Diego, CA 92101
Tin Roof
25% off food
Opens at 9:00AM
401 G Street, San Diego, CA 92101
Whiskey Girl
Morning After Wich Special, 20% off Brunch Items
Opens at 9:00AM
702 Fifth Avenue, San Diego, CA 92101
Florent Restaurant and Lounge
15% off bill
Opens at 9:00AM
672 Fifth Avenue, San Diego, CA 92101
Gaslamp BBQ
Pulled Pork special and 15% off
Opens at 10:00AM
524 Island Avenue, San Diego, CA 92101
Meze
15% off brunch
Opens at 10:30AM
345 Sixth Avenue, San Diego, CA 92101
El Chingon
15% off Brunch
Opens at 11:00AM
560 Fifth Avenue, San Diego, CA 92101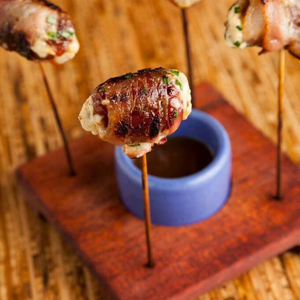 Cafe Sevilla
20% off food
Opens at 11:00AM
353 Fifth Avenue, San Diego, CA 92101
Tipsy Crow
20% off with bib
Opens at 12:00PM
770 Fifth Avenue, San Diego, CA 92101
Bubbles Boutique
10% OFF
Opens at 10:00AM
226 Fifth Avenue, San Diego, CA 92101
Reebok Fit Hub
20% Off
450 Fifth Avenue, San Diego, CA 92101
Lucky Brand
15% Off
Opens at 11:00AM
621 Fifth Avenue, San Diego, CA 92101