Tis the season to get Toasty! Mingle with friends, family, and fellow San Diegan's as you Toast your way through the historic Gaslamp Quarter. The Toast of Gaslamp this Saturday, December 9th is the perfect way to spend an afternoon festively feasting as you stroll your way through two dozen of the most delicious Gaslamp Quarter restaurants!
Don your festive attire, round up your friends, and enjoy an event that has become a holiday tradition for many San Diegans – Yule have a blast! Purchase your tickets early at www.toastofgaslamp.com for only $25 in advance or $30 the day of the event.
New In 2017:
Wear your favorite ugly holiday sweater or reindeer ears to receive entry in our Gaslamp Grand Prize Giveaway! One lucky winner will win a package featuring gift cards and prizes from restaurants, shopping, and more! Contest participants will receive a raffle ticket upon check-in, and the winner will be announced at 5pm.
See below to find out the bites, sips, and shopping deals businesses are offering for Toast of Gaslamp attendees!
Pulled pork and Holiday cocktail
Where: 524 Island Avenue
Chipotle bacon mac and cheese with BBQ pulled pork garnish and holiday cocktail
Where: 628 Fifth Avenue
Tuna poke served on taro chip and Holiday cocktail
Where: 565 Fifth Avenue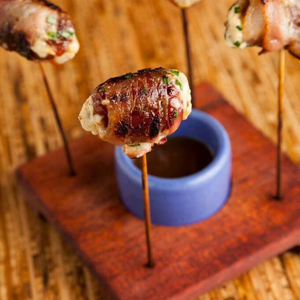 Tortilla Espanola as well as Datiles Rellenos
Where: 353 Fifth Avenue
Assorted pizza slices and Holiday cocktail
Where: 536 Market Street
Corned Beef with Brussels slaw, roasted potatoes and Holiday cocktail
Where: 554 Fourth Avenue
House tacos el pastor and Holiday cocktail
Where: 560 Fifth Avenue
Assorted tacos, corn in a cup and Holiday cocktail
Where: 744 Market Street
Cubano sandwich bite and Holiday cocktail
Where: 548 Fifth Avenue
Cajun chicken tenders with awesome sauce and Holiday cocktail
Where: 379 Fourth Avenue
Macaroons and Holiday cocktail
Where: 555 G Street
Chicken soulki with pita and taziki or vegetarian falafel and Holiday cocktail
Where: 345 Sixth Avenue
Chicken Kabob and Holiday cocktail
Where: 756 Fifth Avenue
Corn cake stuffed with xaca cheese, topped with pulled achiote pork and Holiday cocktail
Where: 332 J Street
Ceviche and Holiday cocktail
Where: 310 Fifth Avenue
Holiday cocktail
Where: 423 E Street
Caramel bread pudding and Holiday cocktail
Where: 544 Fifth Avenue
Chili glazed meatballs and Holiday cocktail
Where: 453 Sixth Avenue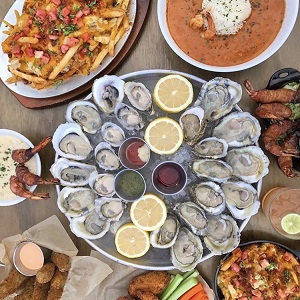 Tasty treat and Holiday cocktail
Where: 551 J Street
Chicken & waffle bites and Holiday cocktail
Where: 401 G Street
Lucky Brand
Show your ticket and get 15% off additional to in store promotion
Where: 621 Fifth Avenue
Bubbles Boutique
Bubbly with Homemade Cookies and 20% off everything
Where: 226 Fifth Avenue
Reebok Fit Hub
They will be having a toy drive and offering 20% off to anyone who drops off a toy, there will also be a raffle for a Reebok gift card.
Where: 450 Fifth Avenue
Quiksilver
1 Tee + 1 Bottom + 1 Hat + 1 Pair of Sandals for $99
Where: 470 Fifth Avenue
Dolcetti Boutique
Show your ticket for 15% off excluding sale items
Where: 635 Fifth Avenue
Urban Outfitters
30% off all dresses and rompers
Where: 665 Fifth Avenue
Goorin Bros.
Up to 1/2 off on select styles of hats
Where: 631 Fifth Avenue
Oakley
30% off Friends & Family coupon that includes eye wear and apparel.
Where: 460 Fifth Avenue
Skechers
Spend $100 get $20 off.
Where: 480 Fifth Avenue
San Diego Trading Co.
578 Fifth Avenue & 376 Fifth Avenue
The San Diego Shop
711 Fourth Avenue
San Diego's Best
636 Fifth Avenue
50% off select styles men's/women's hoodies. Select styles of men's/women's t-shirts 2 or $24. All kids t-shirts 2 for $20.
Show your Toast ticket and get an additional 10% off your purchase!