With history comes ghost stories, and there aren't many places in San Diego with more history than the Gaslamp Quarter. Old buildings and a colorful past set the scene for a perfect Halloween haunt, and many of the Gaslamp's restaurants, bars, and nightclubs are pulling out all the stops to make this the most spooky season yet! From themed cocktails and cuisine to costume parties and treat-or-treating, see what the historical heart of San Diego has to offer this Hallow's Eve Weekend!
Venture to the Upside Down
From demogorgons to Christmas lights, Eggo waffles to walkie talkies, things are getting strange in the Gaslamp! Venture into the upside with two Stranger Things-themed parties: Side Bar Things featuring DJ Gordo on Saturday, October 26th and Stranger Syrah with a photo booth and themed cocktails, also on Saturday, October 26th.
Something For The Little Ghouls and Gobblins…
All that trick-or-treating drums up an appetite! On Thursday, October 31st from 3-close, Burger Lounge is treating your kids (12 and under) to a free meal when you order an entrée and fries.
Ghosts Eat Brunch Too
A weekend without brunch is about as scary as you can get! Searsucker presents Monster Bash Brunch, a special Halloween-style brunch on Saturday, October 26th from 10am – 2pm! Fuel up on all your favorite brunch dishes before heading out to haunt!
And we can't forget about our furry friends! Sign of the Whale is hosting "Howl-O-Ween: Brunching with your Bestie" adoption event! Bring your dog…or maybe leave with a new one! There will be a canine costume contest, pup-friendly trick-or-treating, a raffle benefitting the Angels of Rawley Foundation, and more!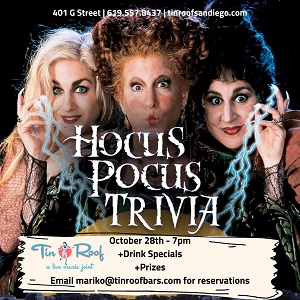 You Are In For A Wicked Night
If costume contests, Halloween cocktails, delicious bites, live DJs, and dancing is the paranormal activity you're craving, the Gaslamp has much to choose from! On Thursday, October 31st, go sky-high at Andaz for Rooftop Terror: a sexy party including drinks (until midnight), unlimited tacos and a live DJ! Also on the sexy-side, FLUXX's Playboy Halloween Party on Saturday, October 26th…every bunny is welcome!
Feeling a bit insane trying to make your Halloween plans? Then you'll fit right in at Barleymash's Asylum party, a three-day event on the 26th, 30th, and 31st featuring a Day-of-the-Dead party with sugar skull painting, DJ Will Duka, and an Espolon Prize raffle!
The scarier the party the better! If you're looking to dance your way to the dark-side, check out F6ix's CarnEVIL, Nightmare on Market Street at The Smoking Gun (no cover for 92101 residents), or the weekend line up at Tin Roof with Nineties Massacre, Hocus Pocus Trivia Night, Scary-aoke, and Hallow-EMO night!
If the urge to dance is overwhelming, Tropical Savor Bar & Grill may be just your spot. Come in costume and dance to Salsa, Bachata, and Reggaeton hits all night. Prizes will go the best costume!
Did someone say drink specials? Union Kitchen & Tap are tapping into their freaky side with an American Horror Story theme and a boo-zy $5 special on Bearded Lady cocktails!
A Scary Night at the Movies
What is Halloween without scary movies? Theatre Box is getting in the spirit with a line-up of the most popular horror movies! In addition, 5th and Sky Gardens and Lounge will be hosting "5th & Scare" a rooftop party with signature craft cocktails, a guest DJ, and a costume contest with cash prizes on Thursday, October 31st!
Pick your poison – this incredible Gaslamp Quarter lineup has something for everyone!
For more information on these events and more, visit https://www.gaslamp.org/halloween