LOCATION
The Gaslamp Quarter National Historic District is located in the heart of Downtown San Diego, California. Our neighborhood is eight blocks long (from Broadway to Harbor Drive) and a little more than two blocks wide (4th, 5th & 6th Avenues) for a total of 16 and one-half blocks. The area is best known for our stunning examples of Victorian Architecture and for being a fabulous entertainment destination. There are currently more than 100 diverse restaurants, nightclubs, lounges and live music venues. We have another 70 shops, boutiques, and personal service providers. There are more than 20 hotels directly adjacent to the neighborhood and we are directly across the street from the San Diego Convention Center and Petco Park, home to the San Diego Padres. Don't worry about parking – we'll help you out!
PARKING OPTIONS
559
Spaces Currently Available
6th & K Parkade
289 Sixth Avenue | (619) 232-4897
-$1 per hour 3AM-6PM
-$5 Flat Rate 6PM-3AM Sunday-Thursday
-$10 Flat Rate 6PM-3AM Friday-Saturday
-$15 Daily Maximum
-$15 Flat Rate during Padres home games and certain special events
381
Spaces Currently Available
Park It On Market
614 Market Street | (619) 232-4897
-$1 per hour
-$10 Flat Rate 6PM-3AM Friday-Saturday
-$15 Daily Maximum
-$15 Flat Rate during Padres home games and certain special events
SpotHero is the nation's leading parking reservation app to book convenient and affordable parking. To reserve your parking spot, visit the Gaslamp Quarter SpotHero Parking Page and book a spot with rates up to 50% off drive-up. Click Here to Reserve!
Gaslamp City Square
421 Fourth Avenue | (619) 233-3994
-Gaslamp Special Rates: $9 Early Bird Special 7 Days a week In by 9AM out by 6PM
-$9 Sunday-Thursday 9AM-6PM
-$9 Sunday-Thursday 6PM-6AM
-$15 Friday-Saturday 6PM-6AM
Reserve a space
Metered Street Parking
-2018 rates are $1.25 per hour. They all accept coins and some also accept credit cards.
-Meters enforced from 10AM-8PM Monday – Saturday.
-Fifth Avenue is a 3-Minute Passenger Loading Only Zone every Friday and Saturday from 8PM-3AM.
-There is no enforcement on Sundays, New Year's Day, Martin Luther King, Jr. Day, President's Day, Memorial Day, Independence Day, Labor Day, Veteran's Day, Thanksgiving Day and Christmas Day (San Diego Municipal Code, Section 86.01).
Horton Plaza Parking
-$2 every 15 minutes with a maximum of $48
-$10 8PM-5AM Sunday-Wednesday
-$20 8PM-5AM Thursday-Saturday
-Call Manager of specifics (619) 233-1491 or email horton.parking@abm.com
Eating at 35 downtown restaurants could take a year. The 25th annual Taste of Gaslamp presented by Karl Strauss provides an opportunity to accomplish this epicurean feat in one delicious afternoon.
On Saturday, June 15, from 1:00 to 4:00 p.m., dozens of chefs will put their best flavors forward to impress the more than one thousand food fanatics who will gather in the Gaslamp to experience the neighborhood's latest culinary offerings.
This year, more than 35 venues are getting in on the hospitality action, wooing and wowing new and repeat customers with mini versions of their popular dishes. General admission tickets include visits to 27 restaurants and access to the Karl Strauss beer garden (must be age 21 or older to enter the beer garden). VIP ticket-holders gain exclusive access to eight additional upscale restaurants, each serving a signature cocktail, and an after party at the historic Horton Grand Hotel.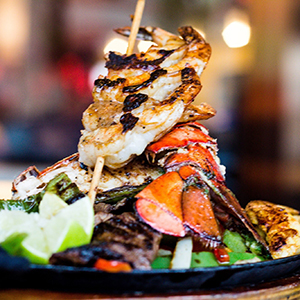 Do you wish you could travel and feast on delicious food from all over the world? Do you miss the authentic local cuisines you tried while on vacation in Peru? Italy? Brazil? Food is such an important aspect of travelling that allows you to experience the real,... read more
Celebrate International Cat Day at The Cat Cafe, enjoy live music at lots of different venues, or join The Melting Pot for a fondue and cocktails cooking class! There's always plenty of things to do in the Gaslamp Quarter. See below to plan your weekend.... read more
Executive Chef Kevin Templeton of barleymash and Executive Chef Colten Lemmer of Union Kitchen & Tap represented San Diego in their first ever appearance on Food Network's Chopped! If you are not familiar with the show, Chopped is an American cooking... read more
FIFTH AVENUE PASSENGER LOADING ZONE
Fifth Avenue will be converted into a 3-minute passenger loading and unloading ONLY zone on Friday and Saturday nights from 8PM-3AM to improve efficiency, safety and visibility during hours of increased traffic congestion on Fifth Avenue.